Anime Review: Tiger Mask W
On an alternate Earth where professional wrestling is absolutely real, the world wrestling industry is dominated by the Global Wrestling Monopoly (GWM.)  One of the few independent markets left is Japan.  GWM offers a cross-promotion with the second-biggest wrestling operation in Japan, Zipangu.  But once the matches begin, it's obvious that the goal is not exciting matches, but for GWM to destroy Zipangu as an organization.
The final blow is the match between GWM's Yellow Devil and Zipangu's champion and manager, Daisuke Fujii.  The masked Devil used illegal moves to win the match, and continued to attack even after he'd won, crippling Daisuke for life and scarring Daisuke's son Takuma.  Without the older man's leadership, Zipangu fell apart   Takuma Fujii and his best friend Naoto Azuma vow vengeance, but as lowly trainees there is little they can do at the time.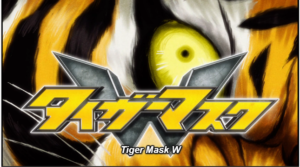 Several years later, GWM returns to Japan to wipe out its largest wrestling operation, New Japan Pro Wrestling (NJPW.)   Naoto is ready for them.  He found a trainer in Kentaro Takaoka, who was once secretly Yellow Devil himself.  Takaoka reveals that the true power behind GWM is the Tiger's Den, once feared as a criminal organization that churned out superior wrestling heels, until they were exposed and defeated by their former member Tiger Mask.  Takaoka puts Naoto through a special training regimen to become the new Tiger Mask.
However, he is unaware that Takuma has infiltrated Tiger's Den to destroy them from within, becoming the fearsome Tiger the Dark!  Who will be the ultimate tiger?
This 38-episode anime series is a sequel to the Tiger Mask manga and anime from the 1970s.  While in many ways it's a throwback to older styles, with an episodic structure, opening song that's directly about the show (a remix of the older series' theme) and clearly drawn lines between good and bad, it's lighter in tone and outcome than the original.  (Tiger Mask killed off many of the major characters, including the hero!)
Lighter the show may be, but there is still blood in some matches (about as much as you'd see in a real life professional wrestling match which calls for bleeding) and frequent use of wrestling moves that are Do Not Try This At Home.  The series is relatively light on male-oriented fanservice, but there is a hot springs episode, and female wrestlers wearing form-fitting outfits.
Comic relief comes from the clownish masked wrestler Fukuwara Mask (who hides a dark secret) and Haruna, niece of Takaoka and Tiger Mask's self-appointed business manager.  While she's certainly got the enthusiasm and some business sense, Haruna is a recent high school graduate and rather naive.  Over the course of the series, Haruna begins to show more competency, and the final episode (after the main plot wraps up in #37) is a spotlight for her coming into her own.
Several of the matches are quite thrilling; the romantic subplots are kind of cliche.
Recommended highly to pro wrestling fans, and those looking for a more kid-friendly anime that isn't about selling toys.
And here's the opening theme!  https://www.youtube.com/watch?v=RF7cwAo0UTI