Comic Book Review: Suicide Squad Most Wanted: El Diablo story by Jai Nitz, art by Cliff Richards
Chato Santana used to be a drug dealer and gang leader in East Los Angeles.  At some point he became linked to a vengeful demon and gained pyrokinetic abilities.  El Diablo used those powers to rule his neighborhood, until the day he burned down a rival gang's crack house only to discover he'd also killed the enemy's women and children as well.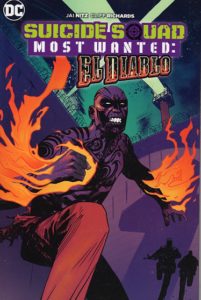 As penance for his actions, Chato chose to turn himself in to the law, and serve his time, never again to kill.  While in  Belle Reve prison, El Diablo was drafted into the Suicide Squad, a covert ops team which uses criminals on missions they are unlikely to survive in exchange for reduced sentences.  He's survived enough missions that he could leave prison any time he feels like it.
And now Chato wants to go home.  But Squad leader Amanda Waller doesn't like that idea.  The ruthless political operative is putting together a new iteration of the Suicide Squad for "scorched earth" operations and wants El Diablo as the leader. He turns down the assignment, and Waller punishes him, only to be interrupted by Uncle Sam.
Yes, that's right, the living symbol of America.  It seems he's working for another government agency, Checkmate, which is slightly more aboveboard.  They've got a problem with a superpowered being slowly crossing the Sonoran Desert and need El Diablo's help.  Chato turns down the job, but this does give him enough leverage to return home.
Home isn't a healthy place to be, as new metahuman gangster Bloodletter has taken over the neighborhood.  His house destroyed, El Diablo joins up with Checkmate.  This sends Chato on a journey through the underbelly of the DC Universe.
"El Diablo" is kind of a generic name–this is the third DC Comics character to bear the moniker.  He was created by Jai Nitz in 2008 for a limited series meant to showcase a Latino character created by a Latino writer.  Sadly, the time just wasn't right, and sales were dismal.  The character disappeared until the New 52 reboot of Suicide Squad, when a revised version was written into that series by Adam Glass.
Interest in the Squad was heightened by the recent movie directed by David Ayer, and El Diablo was one of the more successful parts of the film.  Thus he got his own miniseries written by his creator.
Mr. Nitz digs deep into the obscure character barrel for interesting opponents and allies for El Diablo.  Most notably, El Dorado, who was created for the Super Friends cartoon and never appeared in a comic book, finally gets to be on-page, along with every other Mexican superhero DC Comics has. ¡Justicia!
The art is decent, but I want to shout out colorist Hi-Fi and letterer Josh Reed for some excellent work.
The story is mostly an excuse to run Chato all over the map to meet interesting people, but returning to the status quo at the end.  It remains to be seen if any of the events here will ever be referenced again.
There's quite a lot of violence, some gory, as well as ethnic prejudice.
If you liked the El Diablo parts of the Suicide Squad movie, or want to support Latino comics creators, this is a pretty good volume.