Book Review: The Rebellion's Last Traitor by Nik Korpon
Once upon a time, the Morrigan brothers formed a group called Tathadann to make Eitan City a refuge from the Resource Wars that were killing the planet.  But then one of them betrayed the other, and the Tathadann became dictators.  Now it was their turn to be the establishment that young Henraek and Walleus rebelled against.  The Struggle had some victories, but eventually Walleus defected.  In his rage, Henraek started a riot in which his wife and child died.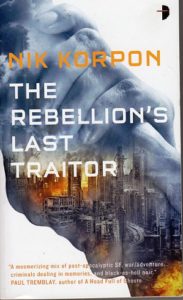 Now Henraek is a shell of his former self, drafted into stealing memories from political targets for the Tathadann (and selling the ones they don't need on the black market.  His new lover's an artist, and may still be actively working with the Struggle.  Walleus is an intelligence operative for the city's bosses, though not as well treated as once he was.  His ambitious underling Grieg is incompetent at the actual job, but might be better at backstabbing.
Then Henraek comes across a memory of his wife that suggests she wasn't killed in a riot at all.  He starts investigating, despite Walleus warning him off.  Walleus does, after all, care about his old friend…and has secrets he must keep at any cost.
This is a book about people who have been betrayed and are betraying; almost everyone has secrets they'd rather other people didn't know.  The setting seems to be a future Ireland, but is vague enough that it might not be.  The landscape and environment have been permanently altered by the Resource Wars, and there's been mass memory tampering.
If we presume that it's Ireland, then the Struggle seems to evoke the Troubles and the terrorism and oppression of those dark times.  I am not expert on the subject, so cannot say how respectful this story is to that inspiration.  The social divide is more political than religious (people who support the ruling party live in a nicer part of town and have  some luxuries; people the ruling party don't like can't even get clean water.)
Neither of the main characters is likable; Henraek is resentment and revenge-driven almost 24/7, while Walleus is more calculated but just as self-centered.  Some of the other characters come off a bit better, but we are talking terrorists and the secret police (who are pretty similar.)
As might be expected, there's a lot of violence and some rough language.
The writing is okay, but not gripping and I have no interest in following the further story of the surviving characters.