Manga Review: Haikyu!! 1 by Haruichi Furudate
It is the first game of the junior high boys' volleyball tournament, between Kitagawa Daiichi Middle School and Yukigaoka Middle School.  While the first school is known for its strong volleyball program, the other…isn't.  Yet the stars on each team have something in common.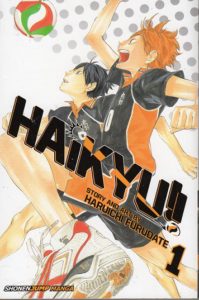 Shoyo Hinata of Yukigaoka has been in love with volleyball since he saw a particularly thrilling game on television as a child.  A relatively short player nicknamed "the Little Giant" showed his skills leading Karasuno High School to victory.  This inspired the undersized Hinata, and he began practicing his skills.  But his school didn't have a boys' team, and he turned down the offer to join the girls' team.  So for several years he was the only member of the volleyball club.  In this, his final year, he's finally scraped together enough members (including loaners from other sports teams) to enter the winter tournament.  Pity none of the other team members has skills!
We don't learn as much yet about Tobio Kageyama's background, but he's got a reputation for being a natural genius at volleyball, called "The King of the Court."  The catch is that his Kitagawa teammates gave him that nickname not for his skills, but for being a royal brat who is the "I" in "team."  His attitude is sour, but he's the only one who respects Hinata as an opponent.
The game is a blowout, of course, but Hinata encourages his team even though they let him down time after time, while Kageyama berates his team for being less than perfect.  Despite Hinata's despair at losing the only full volleyball game he'll get to play in junior high, his team feels better about their loss than Kitagawa does about their win.  Hinata marks Kageyama as his arch-rival and promises they'll meet again in the high school tournaments.  Kitagawa is soon eliminated from the tournament as well, though Hinata barely notices the news.
Hinata chooses to go to Karasuno High School, a half hour away by bicycle, because of his memories of the televised game, even though he has heard their volleyball program is not as good as it used to be.  He is shocked to discover that Kageyama is also attending the school, even though he should have been getting a full scholarship from the school district's top volleyball high.  Kageyama angrily explains that he was rejected, but does not elaborate.
The two immediately begin quarreling, which causes some issues with the vice-principal.  Daichi Sawamura, the volleyball team captain, bans both of the rookies from the team until they've learned to work together.  This will be shown in a three-on-three match.  Hinata and Kageyama will be teamed up with the thuggish-looking (but really a huge goofball) Ryunosuke Tanaka, while Daichi will be with the other two rookies, who haven't been introduced yet.
Can the short kid with speed and jumping skill learn to work with the genius setter in time?
This popular sports manga appears in Shounen Jump Weekly and has had three seasons of anime adaptation.  Volleyball (haikyuu in Japanese) was one of the first sports to get an ongoing manga/anime in the form of Attack! Number One and remains a popular sport in Japan.
The story gives us two protagonists who both must learn teamwork for different reasons, but slightly disguises it by having them set up as rivals in the first chapter.  Hinata's easier to like, but has a tendency to stick with boneheaded decisions well past the point it's clear they're not working out.  Kageyama is quick to point out that never giving up doesn't work if you don't have the skills and strength to pull it off.  The taller boy, meanwhile, has to learn how to adapt to the teammates he actually has, rather than expect everyone to match his level.
The rest of the Karasuno team is the usual assortment of quirky types; the most developed in this volume is Tanaka.  His skinhead haircut and habit of sneering at people he doesn't know makes Tanaka look like a troublemaker, but he's actually just very intense and a hopeless romantic.
As is common in boys' sports manga, the only named female character in the first volume is Kiyoko Shimizu, the pretty but shy team manager.  Tanaka is open about his crush on her, which she tactfully ignores.  It'll be quite a while (I've seen the anime) before we get any others worth mentioning.
The Karasuno High School vice-principal is very much a stock character, pompous, obstructive and wearing a bad toupee; thankfully he mostly goes away after this volume.
This first volume is mostly about introducing characters and setting up the initial conflicts; it will be a while before the manga gets to the serious sports action.  We also get little bits of explanation about volleyball for the new reader, and character profiles indicating strong and weak points for the cast.
The art is generally good, with strong crow motifs for the Karasuno team, but every so often the artist uses "crazy eyes" when he shouldn't.
There's little here that should be objectionable for sports-minded middle-schoolers on up, with strong themes of persistence, teamwork and (eventually) friendship.  Recommended primarily to young volleyball fans.
Let's have the opening for the first anime season!