Manga Review: One Piece #27 & #28 by Eiichiro Oda
On a world covered with oceans, pirates run rampant.  Not so many years ago, the so-called King of Pirates, Gol D. Roger, was executed, but before he went, he proclaimed that he'd left all his fabulous treasure in "one piece."  It's assumed that finding that treasure would make you the new Pirate King.  One of the pirates looking for that treasure is Luffy D. Monkey.  As a boy, he ate the Gum-Gum Fruit, a "Devil Fruit" that made his body like rubber, able to stretch at will, at the cost of being unable to swim.  (not a good thing for someone who travels on water!)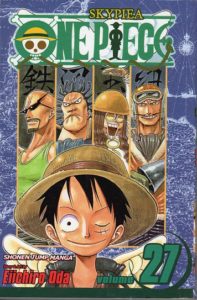 Enthusiastic but not overly bright, Luffy set sail to assemble a pirate crew full of wacky characters.  The Straw Hat Pirates sail the seas in search of the One Piece and their own individual goals, and along the way they help people–especially if it involves treasure or a good scrap!
This manga series has been running in Weekly Shounen Jump since 1997, and is still going strong after twenty years.  The general plot structure is that the Straw Hats  sail into a new area, meet a new cast of local characters, discover a problem in the area that must be solved (usually through a series of battles), resolve the problem, then sail off.  Every so often, a new member will join the crew.  This structure has served the series well, and Oda often brings older characters back for cameos or extended stays.
The series is primarily comedic, and often has laugh out loud moments, but also has heartbreakingly dramatic passages.  The art is cartoony, well suited to the many characters that have transformation powers of some kind.
The volumes at hand, #27-28, are set in the Skypiea arc.  Having learned of the existence of the White-White Sea, a semi-solid to solid cloud area, the Straw Hats modified their ship, the Merry Go, to be able to survive being launched into the air to visit this natural wonder.  They arrive in Skypiea, a cloud island within that sea.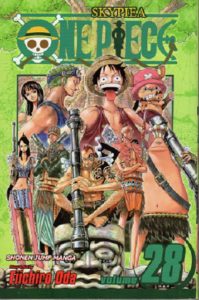 At this point in the series, the Straw Hats crew consists of:  Luffy (captain), a jolly fellow with stretching powers; Zolo (mate), a former bounty hunter and master of the Three-Swords fighting style; Nami (navigator), former thief and the greediest member of the crew, she wields a staff with some weather modifying powers; Usopp (sharpshooter), a cowardly liar who's good with distance weapons and has some gadgeteering skills; Sanji (cook), a ladies' man who fights with his feet; Chopper (doctor) a young reindeer who ate the Human-Human Fruit and became a were-human; and Nico Robin (historian), an archaeologist who ate a Devil Fruit which allows her to manifest extra body parts…anywhere she wants.
Shortly after arrival in Skypiea, the Straw Hats are declared criminals by the mysterious "Kami" of the island.  They do have some allies, however, including "Sky Knight" Ganfor, the previous Kami.  He explains that "kami" is normally just the title for the ruler of Skypiea.  And it's time for some tragic backstory.
It seems that objects from the surface world that come up to the White-White Sea are called "varse".  And the most valuable varse is ground that can grow plants, extremely rare in these parts.  But about 400 years ago, half of a large surface island somehow got blown up into the clouds and fused with Skypiea.  Yay, land boom!  The bad news was that the land was already inhabited with surface dwellers.
The sky people drove the surface dwellers from their home and took over.  The displaced people became the Shandians, a resentful tribe that trains in guerilla tactics to regain their homeland.  Ganfor was trying to negotiate a peaceful solution (not helped by Shandian leader Wyper being a hard-liner) until six years ago, when Eneru and his vassals arrived.  They'd heard of a resource the Skypieans had (gold) that Eneru wanted (but not for the reasons you'd think.)
Eneru defeated Ganfor, making him the new kami, and took over the island.  His rule is harsh and tyrannical; no one can enter the forest beyond which Eneru lives, outsiders are forbidden, and speaking against the government is a crime.  But you can still oppress the Shandians if you like, Eneru's cool with that.
Eneru's four vassals are a step up from the opponents the Straw Hats have faced up to this point.  They are among the minority of sky people who are born with "mantra", a sense that allows them to predict people's movements by listening to their bodies.  This is a distinct advantage in combat!
Eneru also controls the Heavenly Warriors that used to work for Ganfor; they're loyal to the office, not the person.  And Eneru himself (though it's not explicitly stated in these volumes) is not just able to control lightning, he is lightning.  This makes him so much more powerful than any other sky person that he considers himself a true "kami" (god.)
The Shandians are anti-Eneru, but refuse to ally with any sky people or surface people due to pride.  Thus they're as likely to attack people who want the same goals as their actual enemies.  Eneru finds this hilarious, and when the Upper Yard is invaded by those who oppose him, he treats the whole thing as a game.
There's a bit of moral complexity here; Ganfor sincerely wants to make peace with the Shandians, but comes from a place of privilege, wanting them simply to forget the wrongs of the last four centuries and behave as though the Skypieans are doing them a favor by sharing the land.  Wyper, meanwhile, can only see the wrongs done his people, and demands revenge rather than compensation.  He refuses to compromise, even when it would improve the lot of his followers.
There's some fun use of powers and unusual weapons–this arc is where the "dials", seashell-like objects that can store qualities like impact, heat or scent for release later, are introduced.  And as so often in One Piece, there are amazing battle scenes.  All the Straw Hats get moments to shine.  There's even a bit of movement on the "Missing Century" plotline, as Nico Robin discovers relics from that period.
However, because these are middle chapters in an ongoing battle arc, people who want complete stories might find these volumes less than satisfying.  (And Chopper's victory is pretty much handed to him rather than won.)
There's also a "splash page" story concerning the villain of a previous plotline, Wapol, going from homelessness to success as a toy manufacturer.  He might not be a king any more, but he's rich and has a hot wife.
Overall, One Piece is a fun and engaging manga with twenty years of continuity to catch up on.  I especially like that it took fifty volumes for a female character whose primary motivation was being in love with the male hero (Luffy) to show up, and then she turned out to be a parody of that kind of character.  (On the other hand, there's some transphobic "humor" in some volumes that does not sit well with many readers.  Recommended for teenagers and people who love shounen manga.