Comic Book Review: Alexander Hamilton written by Jonathan Hennessey, art by Justin Greenwood.
Alexander Hamilton (1757?-1804) was born in the West Indies, immigrated to the mainland American colonies in his teens, fought in the American Revolution, and served as the first Secretary of the Treasury under George Washington.  He was killed in a duel with the then-Vice President, Aaron Burr.  Controversial during his lifetime, Hamilton was eventually honored by being placed on the ten-dollar bill, and has recently had a musical based on his life become a Broadway hit.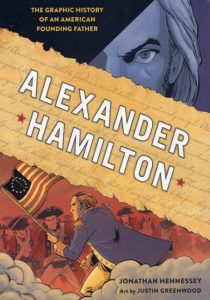 That musical has done much to revive interest in Alexander Hamilton, and there have been a number of books about him published in the last couple of years.  This volume is a graphic novel biography.  It takes advantage of that format by opening with a quotation about the dangers of liberty, and introducing the visual motif of Adam and the Serpent, here portrayed by Benjamin Franklin's segmented colonies.
While the use of the visual format was good overall, the actual art often is not up to par.  It's often hard to tell that a particular person is supposed to be the same person from a few pages before without the captions, and the artist often draws faces with misaligned eyes.  (I will admit that less than stellar art is a tradition in biographical comics.)
It's a "warts and all" biography, which goes into some detail about Hamilton's extramarital affair with Maria Reynolds.  (Which we know more about than some Founding Fathers' affairs because Mr. Hamilton overshared information in an attempt to prove himself innocent of fiscal wrongdoing at the Treasury.)
The book goes into some detail about how Hamilton's childhood in poverty and difficult family circumstances, and the political climate of the time, may have influenced his views on things like slavery (personally opposed, but willing to compromise), centralized government with a strong executive, and fiscal policy.  It's worth remembering that the Founding Fathers often disagreed (sometimes violently) about the right direction for the young United States, and the interpretation of the Constitution.
There's an index, but most of the supplementary material has been outsourced to a website.  This is a good choice for people whose curiosity on the subject of Mr. Hamilton was aroused by the musical, but aren't ready to tackle an 800 page formal biography.  It should be suitable for junior high readers on up, but parents of younger readers should be available for discussions on the more difficult topics raised, such as slavery, marital infidelity and class struggle.  Check your local library!
Disclaimer:  I received this volume from Blogging for Books to facilitate this review.  No other compensation was offered or requested.