Manga Review: Oh My Goddess! Volume 27 by Kosuke Fujishima
Keiichi Morisato is an engineering undergraduate at the Nekomi Institute of Technology when his overbearing upperclassmen stick him with watching the all-male dorm over a holiday weekend.  (It's not like it's going to interfere with his social life.)  Getting hungry, Keiichi tries to order delivery, but each restaurant he tries is closed.  In a fit of frustration, Keiichi punches random keys on the phone–and is connected to something called the Goddess Help Line.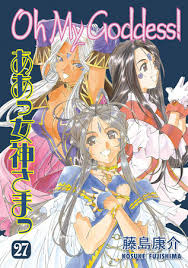 The voice on the other end says that an operator will be with him shortly, and it turns out they meant physically.  A beautiful goddess named Belldandy (after Verthandi, the Norse Norn of the present) offers a single wish to Keiichi.  Lonely and with no luck with women due to being short, the dumbstruck Keiichi wishes for "a girl just like you to stay with me forever."
The wish is granted by forcing Belldandy to stay on Earth with our young protagonist.  The returning upperclassmen kick the couple out of the dorm ("all-male" and they mean it) so Keiichi and Belldandy move into an abandoned shrine that Belldandy shines up with her powers.  Not too long after, Belldandy's sisters Urd and Skuld show up…and never go away.  Our young couple is finding themselves truly falling in love, but will they ever get enough peace and quiet to fulfill it?
This seinen (young men's) manga series (Aa! Megami-sama in Japanese) ran monthly from 1988 to 2014, a total of 48 volumes!  It's been immensely popular over the years, spawning a set of OAVs, three anime series (one a gag spin-off), a theatrical movie and a novelization.   The relatively chaste nature of the series (Keiichi and Belldandy seldom do more than hold hands for most of the run) made it a good choice to show new anime fans in the U.S.
This is one of those series that showed marked artistic improvement over the years as Fujishima mastered his craft.  (The animated versions use the later character designs even when covering the early events.)
This is very much male wish-fulfillment.  A beautiful girl falls in love with our outwardly schlubby hero because she's not fooled by his unimpressive looks and can see the true nobility of his inner nature.  While the course of true love seldom runs smooth, it's almost always interference coming from outside, and Keiichi seldom has to actually work at building and maintaining the relationship.  Plus, Belldandy is in many ways the positive stereotype of the traditional Japanese housewife, kind, efficient, competent at all things feminine and ready to follow Keiichi's lead.
Also irritating to some readers is that the main relationship plateaus early on as the creator realized what a cash cow he had and determined to milk it as long as possible.  It's not until the final volume that Keiichi and Belldandy finally move past "grade-school sweeties who live in the same house", and then the long stall is turned into a plot point.
All that said, they are cute together and most of the characters are likable.
In the volume to hand, #27, shenanigans have turned a former demon's familiar partway into an angel.  (Angels are bond creatures to gods as familiars are to demons.)  Without a god or demon to bond to, the new "angel" will die.  Keiichi, being the kindhearted and steadfast fellow he is, has volunteered to host the critter in his body temporarily.  This is killing him as the volume begins.
Keiichi disappears, and the goddesses look for him, only to find him in the most likely place.  Then the crew realizes there's one being in the neighborhood that could host the bond creature–Velsper, the demon who's been trapped in the form of a cat to curb his powers, and doesn't have his own familiar.   There's a smack of homophobic humor, but all ends well (if embarrassing for Velsper.)
Then Urd, Skuld and Peorth (an unrelated fourth goddess who's also staying at the temple because reasons) get into a rubber band war that escalates far beyond just flicking office supplies at each other.  Silly and inconsequential.
The volume is rounded out by a story in which we meet the Machiners, one of the many races that share Earth with the humans–at a slight angle.  The Machiners are machine people that come in various sizes and shapes, and sometimes need repairs.  It's a good thing that Belldandy and Keiichi are good at machine repair, Belldandy due to her supernatural nature, and Keiichi because he loves machines.   This is a "sense of wonder" story that stands well on its own.
There are also a few Mini-Goddesses gag strips, and the first chapter of the novel First End, which posits a scenario in which Keiichi dies.
This series is now being reprinted in omnibus volumes, and those may be easier to find than the older ones.
And here's a great scene from the movie: