Magazine Review: Short Stories May 25th, 1939 Edited by Dorothy McIlwrath
Short Stories started life in 1890 as a literary magazine, but switched to being a "quality pulp" in 1910, featuring stories of adventure and crime a cut above many of its competitors.   Like many of the pulps, it lost sales badly after World War Two, featuring mostly reprints towards the end of its run in 1959.  But this issue is the magazine in its twice-monthly prime.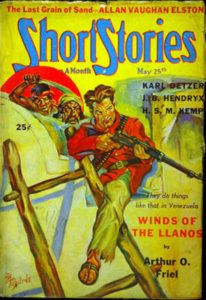 "Winds of the Llanos" by Arthur J. Friel is a long story set in Venezuela.  James Patrick Dugan is an Irish-American with powerful fists and a dislike for authority.  Unfortunately, he also has a habit of going berserk in fights, which has ended in more than one death.  Which is why he's in South America instead of the States.   He's gotten into some trouble down here, too, and is up before a military tribunal.
As it happens, however, one of the officers believes Mr. Dugan is not irredeemable, which is why they are going to give him a chance to clear his record.  It seems there is a bandit nicknamed El Rabioso, the Mad Dog, who is a bad hombre even by South American standards.   His prisoners never turn up alive, and they need closed casket funerals.  El Rabioso has been able to evade the military so far, but a lone operative with no ties to the government, a man with the skills of Mr. Dugan, well….
Sure enough, Dugan manages to stumble into El Rabioso's band of malcontents, who have disguised themselves as soldiers.  The bandit has decided to try his hand at tax collecting.  Dugan infiltrates easily, tricking El Rabioso into killing some of his own men, but when the big fellow learns that the next target is Senor Monteverde, one of the few people Dugan actually kind of likes, things get tricky.
Dugan is a violent antihero, who is only the protagonist by virtue of being the viewpoint character.   He has little regard for human life or the rules of society.  His best trait is not going out of his way to hurt people who aren't out to hurt him.  As part of the package, he is ethnically prejudiced and a bit racist.  Maybe he's gotten a touch better at the end of the story, maybe not.  If you're a big fan of violent antiheroes, you'll probably enjoy this tale.
"The Last Grain of Sand" by Allan Vaughan Elston takes place in Idaho, but the backstory is up in the Yukon Territory.  Three men went gold mining, there was a boat accident that killed one of the men, and cost them all their gold.  Except that a couple of years later, Jeff Ballard arrived in Buffalo Falls with enough money to start the largest dry goods store in town.  His surviving partner, and the son of the dead man, suspect something is up by the way Ballard has been avoiding them.  But of course they have no proof.
The son was studying psychology in college until he had to drop out due to lack of money.  He has a plan, and the partner has plenty of sand.  They might just be able to bring Ballard to justice after all!  Very satisfying ending.
"A Pair of Queens" by Karl Detzer takes us to Lake Michigan, where a boat captain is about to take his employer's daughter to the island where her late father had orchards, as it is time for the apple harvest.  She gets in the way a lot, but the captain soon realizes that the young woman knows her apples!  Light sexism.
"Murder Wanted" by George Armin Shaftel is a Western, as a Texas Ranger realizes that a bounty for bank robbers has become an invitation to slaughter.  Things are made more difficult as he must also deal with a young man who he sent to prison for a crime the young man did not commit.  Ending is a little sloppy.
"Edge of Beyond" by James B. Hendryx is part two of four.  A young prospector, swindled by the man he thought was his partner, ventures off into the Beyond, a territory in the North unexplored by white men.  Or so he thought.   Turns out there is in fact one white guy and his daughter living a pretty comfortable life up there.  They rescue Jack when his sled crashes.
Jack falls in love with Jules Beloit's daughter, Helene, and she with him.  But when Jules is wounded in a hunt with the nearby First Nations people, Jack learns that the supply situation is dire.  He must head back to civilization to fetch the medicine and supplies the Beloits need before the full winter sets in!
What the reader and Helene know that Jack does not is that Jules Beloit was married to a native woman.  (The narrative does not explicitly state that Mrs. Beloit was Helene's birth mother, but that's what Helene believes.)  The ensuing conversation makes Jack look not just racist, but stupid.  Helene asks him if he could ever marry an "Indian" and he says no in a racist way.  She then raises the question of a mixed race woman, and Jack avers he would be able to tell there was a racial taint, and of course he couldn't marry such a woman.  Jack completely fails to grasp why Helene is asking him these strange hypothetical questions, even after she becomes distraught at his answers.
Of course, he might be fooled by the fact that Helene herself is prejudiced against First Nations people, stating how much she hates them, and how stupid they are, needing a white man to show them how to do everything.
Also of concern is Gauche, a ward of the Beloits, who is physically deformed and has some form of cognitive disability.  He seems to be a good guy (though Jack is repulsed by him) but there's still two parts left to go.
This story was reprinted as a standalone book, but is long out of print, and I'm pretty sure I wouldn't like the ending.
"They Usually Do" by Gene Van is a Western, starring series character Red Harris.  The lad is out hunting arrowheads and such with his friend Little Pardner, when their riding animal is stolen by a criminal.  They find shelter from a rainstorm, but the criminal (who lost the mount a little later) returns to reclaim his loot hidden in the cabin.  Red must use his wits to lead the crook into a trap.
"Singapore Secret" by Alfred Batson is another series character outing.  Charleston Charley, a con artist who normally impersonates British nobility, has been tapped by the government to track down stolen defense plans.  He tracks them to the yacht of another phony nobleman, and signs on as a sailor.  The plans are concealed in a particularly clever manner.
"No Evidence at All" by H.S.M. Kemp brings us back to the North as Corporal Joe Briggs sits in on a poker game that turns deadly.  There's just not enough clues to solve the case, so Corporal Briggs has to run a bluff.
The "Adventurers All" column was a reader-written feature where they submitted allegedly true adventures.  This time it's a bit about jaguar hunting in Central America.
"The Story Teller's Circle" column is the "odd facts" section; in this issue it's about Australian Mounted Police.  There's some racism towards aboriginal people.
And "Sez You!" is the letters column.   A W. Tip Davis writes in to tell of his own globetrotting past, and enjoyment of the magazine's exotic locations.
A solid enough collection of stories spoiled by excessive racism in a couple.  The Allan Vaughan Elston story is the best, but I don't know if it's been reprinted.