Book Review: Fortress Rabaul: The Battle for the Southwest Pacific January 1942-April 1943 by Bruce Gamble
Disclaimer:  I received this book through a Goodreads giveaway on the premise that I would review it.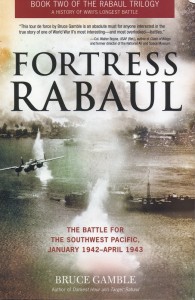 This is the second of three books about the Southwest Pacific campaign during World War Two.  The first book covered the fate of Lark Force, an Australian army unit stationed on New Britain when the Japanese invaded.  The first few chapters of this book recap much the same events, but from the perspective of the air battles.
Rabaul was a small town on New Britain (north of Australia) which had an excellent harbor, but with pretty much constant volcanic activity keeping the local population from getting too comfortable.    Its position made it the best place for the Japanese to build airfields and harbor ships to dominate the Southwest Pacific and prepare for their invasion of Australia.
This is a book dense with information, with detailed reports on many of the air battles in the area.   There are a few black and white photos, but extensive endnotes.  There is a bibliography, and an index which has separate categories for ships, planes and military units
The repeated air battle reports get a bit tedious, enlivened once in a while with a particularly poignant moment.   It was somewhat startling to see just how ill-prepared Australia was for the air war, and how little the initial American forces were able to do.  So many airmen dead, so many vanished, their fate unknown.
The volume ends with the mission that shot down Admiral Yamamoto in 1943, and the definitive turnaround in the course of the war.  The rest will be told in the final book.
This book will be best appreciated by military history buffs, World War Two buffs, wargamers, and those whose relatives fought in the long campaign.
ETA:  Here's a Japanese propaganda song of the era, with footage of Japanese planes.
http://www.youtube.com/watch?v=oaEa5O3B-KI
Do you like videos with book reviews?  If so, comment.