Anime Review: Space Patrol Luluco
Luluco is a normal middle-school student who is trying to live a normal middle-school life in the decidedly abnormal town of Ogikubo.  It's the one place on Earth where aliens are allowed to mix freely with humans.  Luluco's father Keiji is a Space Patrol officer who helps dispense justice in the city, but when he's incapacitated, Luluco is forced to step up and join the Space Patrol herself.  So much for a normal life!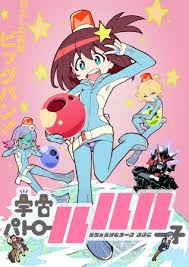 Luluco is a 13-episode animated series from Studio Trigger, each episode being under eight minutes long.  Despite the short length and limited animation style, the story is full of twists.  Luluco is soon joined in her adventures by handsome transfer student Alpha Omega Nova and bad girl Midori Save-the-World.  The threats just keep getting bigger and bigger, until a big twist that reveals what the villains were after all along.
The fast pace and over the top drama make this show very funny, even if it's kind of shallow and the logic doesn't bear thinking about.  It helps to have seen Studio Trigger's other work, as they cross over with multiple other series, including Kill la Kill (which is reviewed elsewhere on this site.)  There's a couple of touching moments, and an examination of first love from both the down and up perspectives.
There's cartoony violence (including gunfights between Luluco's parents) and a bit of rude humor.  Parents of actual middle-schoolers might want to screen the show before letting their kids watch it, but teens on up should be okay.
A good palate cleanser between more serious anime shows.