Audio Review: If We Were Villains by M.L. Rio
Eleven years ago, seven drama students entered their fourth year at the prestigious Dellecher Classical Conservatory.  Now, a decade after the end of that school year, one of those students, Oliver Marks, is being released from prison.  Former police detective Colborne has never entirely bought the official version of what happened, and Oliver agrees to finally tell the truth of that year.  Or at least a truth.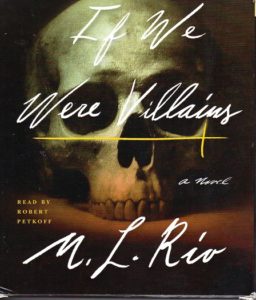 The highly competitive nature of the school and constantly interacting with each other have made the seven students their own little troupe with defined roles.  But a couple of the students have begun resenting their typecasting, and natural born star Richard is on the verge of snapping.  Even when Richard is removed from the picture, the fractures in the group widen until the tragic climax.
This is a debut novel from Shakespearean scholar M.L. Rio, and is full of William Shakespeare's words and ideas.  The theater kids often quote (or misquote) Shakespeare's plays to each other in their dialogue, and sometimes to confused or annoyed outsiders.  A basic familiarity with the Bard of Avon will vastly enhance your enjoyment of the story.
The main characters are the kind of "party hearty" kids I did not get on well with in college; their substance abuse is a large factor in how badly their actions go off the rails, and the sexual shenanigans certainly didn't help.  And of course, keeping secrets from the adults on campus who could have solved many of the issues early on makes things even worse.  (While I am on content issues, warning for rough language, slut-shaming and domestic abuse.)
Oliver has pressures outside school as well, as his parents are unsupportive of his career goals and one of his sisters has an eating disorder that needs them to redirect their limited financial resources.  (Oliver is alas completely unempathetic towards his sister's problems.)  And some of the other students have even worse family situations, one of the reasons they've bonded with each other instead.
Once having established that the main characters are not the kind of people who make smart choices, the stage is set for the inevitable spiral into tragedy, mirrored by the plays they're performing.
The version of the novel I'm reviewing is the audiobook from Macmillan Audio, and read by Robert Petkoff, himself an actor experienced in Shakespearean drama.  His voice is well suited to the text (though there were times when I could not distinguish between female characters) and conveyed emotion well.
However, the audiobook experience was sometimes difficult for me.  I sometimes missed important words, especially early on, and "rewinding" the CD was trickier than simply turning back pages to recheck lines.  On the good side, portions of the book are written in a semi-script style that made it clear who was speaking, very helpful when all the main characters are in the same room.
The physical presentation of the audiobook is barebones, just a box containing plain white sleeves for the ten CDs.  There are no liner notes (it would have been both helpful and apropos to provide a dramatis personae), nor a quick bio of Mr. Petkoff.
While this novel has mystery elements, it fits more comfortably into the "contemporary" subgenre.  Perhaps that New Adult category I've heard of.  Recommended to Shakespeare buffs, theater kids and fans of last minute twists.
Disclaimer:  I received a copy of this audiobook from the publisher to facilitate this review.  No other compensation was requested nor offered.