Book Review: Wild Among Us: True Adventures of a Female Wildlife Photographer by Pat Toth-Smith
Disclosure:  I received this book as part of a Goodreads giveaway on the premise that I would review it.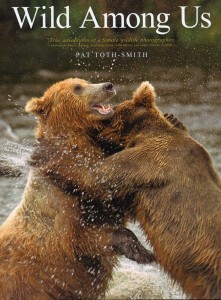 This is a coffee-table book of wildlife photographs, with chapters for each kind of animal and the stories of how the photographer got the pictures.    There are indeed some lovely photographs in here.
The stories will be familiar to anyone interested in wildlife photography.  The elaborate preparations,  the missed chances, the miserable conditions and the brilliant moments when that one perfect shot is available.   Ms. Toth-Smith has several terrifying encounters with wildlife, but usually comes out okay, except for that one time with the mosquito.  (There are no mosquito photographs in this volume.)
Depressingly, the photographer details how she needs to take extra precautions from human threats because she is a woman who often travels alone.  Lucky so far, but a few terrifying moments.
The book is kind of expensive at $45 suggested retail price; consider it as a gift for people who love wildlife photography or animals in general.