Book Review: Aim High by Joseph A. West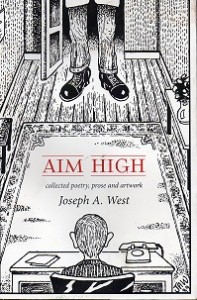 If you've been around the small-press horror magazine scene for a while, you may already be familiar with the work of Joseph A. West.  His distinctive primitive art style, heavy on sloping foreheads, large noses and jutting jaws, has graced many a magazine.  He also is a poet and filled spots with prose where needed.
'Ol Uncle Joe is 91 as of this writing, and a collected volume of his work has finally been published by Witch Tower Press of Minneapolis.  I happened to attend one of his readings at Dreamhaven Books (won't get the chance again, I figured) and picked up the book there.
It's arranged by category of work (with drawings throughout), Verse, Tales, Nonfiction, Random Musings and Illustrations.  The strongest sections are the first and the last.  Mr. West's earthy and sometimes macabre  sense of humor works best in his poems, and his art is what he's most known for.  The middle sections have generally good stuff, but there's a lot of repetition as the same subjects and jokes come up several times.
Literary horror fans may be most interested in the accounts of H.P Lovecraft's house, and a visit with August Derleth.  I do wish there were more nonfiction pieces aoout Mr. West's experiences as a small press artist.  I bet there would be some juicy tales there!
I would primarily recommend this book to fans of small press horror who may have fond memories of Mr. West's work, and those interested in the history of the field.