Book Review: Who Died in Here? edited by Pat Dennis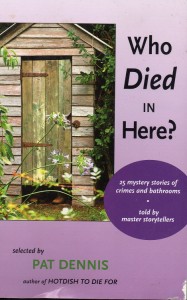 Themed short story anthologies are a perennial favorite for genre fiction.  "Best of" collections tend to feature heavy overlap with other best ofs, while single-author collections have to rely on the reader being willing to pick up a particular author's work.  Themes allow the authors to riff on a central concept, and have readers pick it up because they find the theme interesting or amusing.
In this case, it's tales of murder and death somehow connected to bathrooms.  As you might expect, there's a certain amount of toilet humor, but other stories are more interested in the tub or shower.
As with most anthologies, the quality is uneven.  Standouts include: "Hard Working Red", about a plumber who takes one too many barbs from an electrician; "Nobody Cares", which is more of a horror story with a victim who honestly gets what's coming to him; "Caught With His Pants Down", which has a twist on the jealous stalker story;"Graphic Design", in which a man reads tomorrow's news; and "Problem Plumbing", about a mother who is both pleased and horrified when her son's potty training finally takes hold.
They're all quite short stories, suitable for bathroom reading or any other place you have only a few minutes to spare.  Recommended as a gift for mystery fans with a sense of humor.