Giveaway: Nine Lessons!
Update:  This giveaway is now closed.  Congratulations to Barbara, who didn't quite grok the rules, but at least made an effort!
Thanks to the generosity of the folks at Crooked Path, I have an extra copy of Nicola Upson's mystery novel Nine Lessons, which I reviewed earlier.  And as I have not done a giveaway in quite some time, I've decided to let you lucky folks have a shot at winning it!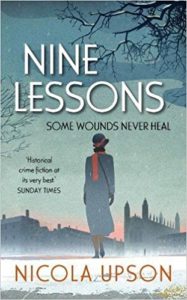 Rules 
This contest will run until midnight 11/13/2017.
You must be at least 18 years old as of the end of the contest and have a mailing address within the United States of America.  (Sorry, teens and overseas fans.)
To enter, first choose a post from this blog (doesn't have to be this one) and share it on your own blog or social media account.  Then post a comment to this post with the post you shared and to where.  Multiple shares would be nice, but won't get you extra entries.
The winner will be randomly chosen from among all entries.
Good luck, and may you never be entombed alive!