Manga Review: Rin-ne by Rumiko Takahashi
Sakura Mamiya is not quite your normal high school girl.  Due to a near-death experience as a child, Sakura can see spirits.  One day, she meets the new boy in her class, Rinne Rokudo.  She mistakes him for a spirit at first, but the truth is a bit more complicated.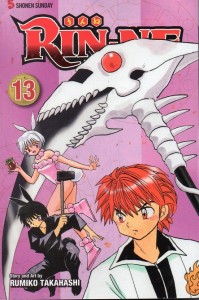 Rinne is a "shinigami" (death spirit), a not so grim reaper whose job it is to move ghosts on to the afterlife.  However, his ancestry is partially mortal human, which means that he is much weaker than normal shinigami and must use artificial means (often expensive ones) to duplicate their natural powers.  Between that, bad luck, and having his name fraudulently placed as a co-signer on his father's extensive debts, Rinne is grindingly poor.
Sakura befriends Rinne, and often helps him with his cases.  While she doesn't have any special abilities beyond spirit sensing, Sakura's cool head and common sense often come in handy dealing with wacky spirit hijinks.  In the standard Takahashi fashion, more and more quirky characters pop up and refuse to go away for long.
This series uses some of the same supernatural folklore as Takahashi's last work, Inuyasha, but does not have an over-arcing plot as such, featuring individual stories and short arcs instead.  Rinne is considerably less of a jerk than most of Takahashi's previous shounen protagonists, and Sakura is much less ill-tempered than many of their female leads.  The obstacles to their budding love are more circumstantial.
Rin-ne is a lighthearted series, despite the constant presence of death.  Many of the situations are silly, even if everyone in the story takes them seriously.
In the volume I have to hand, #13,  Rinne's deadbeat dad needs to borrow money to pay for something, which leads to the question of what he values so much that he'd be willing to actually shell out payment.  Rinne has several encounters with Right and Left, moon rabbit people who run a scythe repair shop…badly.  Then Rinne is framed for robbery.
In addition, there's a story set in a dessert buffet, and seasonal tales for Christmas and New Year's Day.
There's considerably less gratuitous fanservice than Takahashi's earlier works, and despite the scythes and ghosts, most of the violence is slapstick.  The primary intended audience is middle-school and up boys, but girls should find it enjoyable too.