Webtoon Review: Mother Up
This is another "Hulu Original" animated series, with the first season running 13 episodes.  Rudi Wilson (Eva Longoria) is a high-flying, hard-partying executive for a major music label.  She's living in the fast lane until a scandal erupts.  Rather than take the fall for it and get fired, Rudi publicly resigns to "spend more time with my family."  She then takes her children Dick and Apple to their new home in Willowdale, a suburb somewhere in Canada.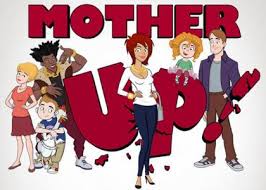 The self-absorbed Rudi fails to notice that her husband Jeffrey has left her until they actually get to the new house.   Rudi also discovers that she doesn't know how to manage a household or take care of children without servants.  Rudi's also initially unprepared to interact with suburban culture like soccer moms and neighbors who actually talk to each other.
With the sometimes dubious aid of Sarah (traditional housewife), Greg (air-headed "life coach") and 2bit (rapper and Rudi's biggest cash cow), Rudi slowly learns to be a slightly better mother.
This is a very crass comedy in the style of Family Guy, full of alcohol abuse,  sexual references, slapstick violence and borderline sociopathy on Rudi's part.  If you can get past that, there are some very funny moments.  (Trigger warning:  One episode has an offstage rape as a joke.)
The animation is decent, and I like Apple and Dick, who are surprisingly good kids for their upbringing.  If you like Family Guy or South Park, you might enjoy this show.