Book Review: Hen of the Baskervilles by Donna Andrews
Disclaimer:  I received this book through a Goodreads giveaway on the premise that I would review it.  Also, this review is of an Advance Reading Copy, and there may be small changes in the final text.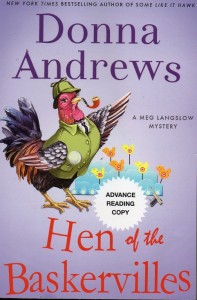 Meg Langslow is a blacksmith in the Virginia city of Caerphilly, although she isn't doing any smithing in this particular volume.  It seems that (as in real life) the Virginia State Fair has run into severe financial trouble, and various communities and counties have decided to put on their own fairs, in an effort to become the new must-see event.  Caerphilly's entry into this competition is the "Un-Fair", which is basically a jumped-up county fair, notable for being in two counties–the midway is in adjacent Clay County, which is causing some jurisdiction friction between city police and county sheriff's office.
Thanks to her superior organizing skills and having an extensive network of useful relatives and friends, Meg has been drafted into being assistant director of the fair.  Which would be stressful enough without a rash of theft and vandalism just before the fair is set to open.   The title comes from a garbled memory of one theft's victims, and it's mentioned a couple of times how much of a stretch it is.
Things get even dicier when the boyfriend of one of the fair's most hated exhibitors turns up murdered.  With clashing law enforcement  stomping about, more missing animals and a slew of suspects, can Meg figure out what's really going on before the fair is closed down for good?
The Meg Langslow mystery series has birds in the title of each book, previous cases aren't much referred to, except that by now Meg has an extensive list of defense attorneys in case anyone she knows is arrested.  As someone who's been to many county fairs, I found the setting charming and reasonably authentic.  The characters were also pretty enjoyable, especially the person everyone thought would be murdered.  The mystery worked well, and had a plausible solution.
Based on this volume, I would read other Meg Langslow books, but I might want to check them out from the library as the recent ones are only available in expensive hardbacks.