Comic Book Review: Son of Samson #1 & 2 by Gary Martin & Sergio Cariello.
Christian kids, just like every other kid, want to read the kind of books that appeal to them. And for a while, manga volumes became huge in the bookstores.  So there was an obvious market for something that physically resembles manga but reflects wholesome Christian values.  Zondervan, a Michigan publisher, is attempting to fill this need with series like Son of Samson.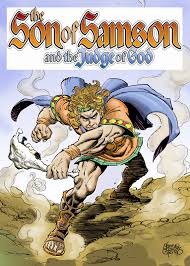 The series begins ten years after Samson's death, with the arrival of Branan, the son Samson never knew.  He wants to know more about his father, and wanders ancient Palestine hearing about Samson's many feats.  (For purposes of this story, the Biblical account is factual.)
In Volume One, "The Judge of God", Branan matches wits and muscles against the Philistine commander Sidon.  He's accompanied by a not-so-faithful sidekick, the irritable camel Uzal.  There's a bizarre side trip to a town of crazy religious fanatics awaiting Samson's return.
Volume Two, "The Daughter of Dagon," introduces spoiled heiress Saphira, who hires Branan as a bodyguard on a journey.  Unfortunately for Branan, her other parent is the treacherous Delilah, the only person ever to defeat Samson.
Branan is a much nicer person than his father, and the story does address the fact that Samson was a jerk.  Branan does not kill (never outright stated but it's pretty obvious) which comes back to bite him a couple of times.  He seems to have his father's strength and appetite, but not Samson's love of booze or lust.
Saphira is more oblivious than evil.  About halfway through volume two, she learns that slavery is bad, and gives letters of manumission to her slaves.  She thinks that because she's never mistreated them, the former slaves will stick around out of loyalty.  While it's true Saphira has never abused her slaves, she's never done anything to earn their loyalty either, and she finds herself stuck in the middle of a journey with no clue how to do anything for herself.
Delilah, on the other hand, is out for herself at any cost–even getting her daughter to do her dirty work.  And still very physically attractive.
The art does not try to be manga-style, which is a relief.  It is well suited to the humorous bits, such as the splash page of Branan and Uzal fleeing in terror in volume one.  There's a number of backup features, including maps, discussions of the various terms, and a quick  look at how Samson might not have been a handsome muscleman at all.  (The Bible mentions his great strength, not his physique.)  Some non-Christian readers may find the Bible citations annoying.
Overall, this is a pretty good series, though clearly not for everyone.