Book Review: Blood Lance by Jeri Westerson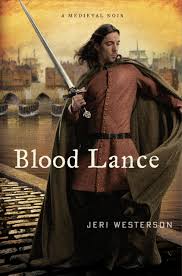 This is the fifth Crispin Guest novel, featuring a disgraced knight of the Fourteenth Century who takes up a career of detection, earning the nickname "Tracker." I have not read the previous volumes.
Guest happens to witness a man falling from a bridge into the Thames. By the time he reaches the man, the fallen person is already dead–and he didn't drown. The dead man was an armourer, who it would appear owned a piece of the Lance of Longinius, a relic that supposedly pierced the side of Jesus Christ, and grants victory in battle. The lance has since gone missing, and multiple parties are working at crosspurposes to find it. Two of these are old friends of Crispin's, but are they his friends now?
All this is set against political maneuverings in the English court, as soon-to-be adult King Richard's favorite is losing his grip on power. The climax of the novel is an exciting trial by combat, with the actual solution of the mystery for a coda.
The noir elements are quite obvious; the morally ambiguous but still upright protagonist, everyone having secrets and many of those unpleasant, miserable weather and darkness (at least at the beginning, authorities who can't be trusted and the detective's falling for a woman too close to the case.
One tricky element of the story is the Spear. This is, apparently, not the first time Crispin Guest has come into contact with a supposed holy object. And while it's left ambiguous whether or not the Spear actually has any powers, (Guest himself is a skeptic) the coincidences keep piling up. Towards the end, at least one character believes that these are not coincidences, and that artifacts seek out Crispin for a purpose as yet unknown.
It's a good read by itself, and I would certainly be willing to look up other volumes in the series.
Disclosure:  I received this book in a Goodreads giveaway on the premise that I would review it.  My copy was an ARC, so minor changes may have been made in the final product.