Book Review: The Inkblots by Damion Searls
"What do you see?"
Hermann Rorschach (1884-1922) was a German-speaking Swiss psychiatrist who developed an interesting experiment involving inkblots.  The son of an artist and himself artistically trained, Rorschach was fascinated by visual perception and hoped to use the things people saw when they looked at his inkblots to help understand their minds.  The experiment was surprisingly successful, and the strapped-for-cash doctor barely managed to scrape together enough money to do a first printing of Psychodiagnostics  and the associated illustrated cards.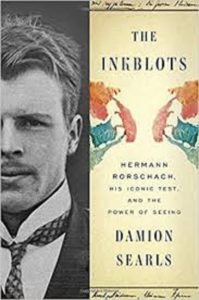 Rorschach died short years after the publication of his book, and before he could see the test gain acceptance outside his native Switzerland.  Without its creator to correct any flaws or incorporate new insights, the Rorschach Test became a force to reckon with in international psychology.
This is, according to the introduction, the first full-length biography of Hermann Rorschach, but it's also a history of his famous creation–which doubles the length of the book.
We learn of Rorschach's childhood happiness and sorrows, his education in Zurich, his fascination with Russian culture (Hermann married a Russian woman who'd come to Switzerland to become a medical doctor), and his important but poorly paid institutional work.
The inkblots themselves are reminiscent of a children's game, blotting paper and trying to interpret the shapes.  And some similar psychological experiments had been  tried before.  But Rorschach was the first to craft specific blots, neither too abstract nor too obviously one thing, and to systematize the interpretation of what the examinee saw.
Because the inkblot test interpretation contained both crunchy numbers and fanciful imagery, it could be used in a number of ways.  It was adaptable across language and cultural barriers, unlike many written tests.  So the Rorschach Test grew in popularity and influence, not just in the realm of medical science but in pop culture.  Its imagery resonated in 1940s film noir and 1980s comic books.
But one of the flaws of the test, as Hermann Rorschach noted, was that he'd found something that seemed to work, but not laid a solid theoretical foundation under it that explained how and why it worked.  So the test became itself "a Rorschach test", with different people reading into it according to their own psychological theorems.  This caused schisms among those who used the test in different ways, and eventually gave rise to a movement that believed Rorschach Tests didn't tell you anything you didn't already know.
The author of this biography thinks the inkblot test is still of importance, and still of use.
There are black and white illustrations throughout, and two sections of "colored plates."  An appendix directly reprints Olga Rorschach's speech on her husband's character.   There are extensive end notes and an index.
The subject is fascinating and the writing is interesting, though sometimes veering into deep psychology jargon.  There is discussion of famous cases and people involved with the inkblot test, including Adolf Eichmann!
On a side note, Hermann Rorschach was quite a good-looking fellow, and one of the few psychiatrists who could be played by a Hollywood star without suspending disbelief.
Highly recommended to those with an interest in the history of psychology.
Disclaimer:  I received this book from Blogging for Books to facilitate this review.  There was no other compensation requested or offered.  Sadly, the BfB site is closing down, so this will be my last review from that source.
And now, how about a scene from Dark Mirror with a Rorschach-like test?