Book Review: Abraham Lincoln: Selected Speeches and Writings by Abraham Lincoln
Abraham Lincoln (1809-1865) was the sixteenth president of the United States, shepherding the nation through the dark days of the American Civil War.  Though mostly self-educated, he had a gift for the English language, making memorable speeches and writing interest letters.  Because of his historical importance and good prose, Lincoln's writings and speeches are a common field of study.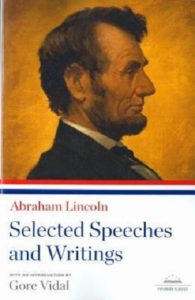 The introduction by Gore Vidal speaks about the divide between the Lincoln of the hagiography and the Lincoln of the more complete biographies, the former omitting his "loon-like" moments and occasional crudity, as well as Lincoln's less salutary opinions.  Mr. Vidal feels that including these warts does not diminish Abraham Lincoln's greatness.
There's a lot of material in this volume, starting with Lincoln's first known political address in 1832 about improvements to navigation on the Sangamo River and ending with a speech on his hopes for the Reconstruction period in 1865, short days before his assassination.
As one might expect, a lot of these writings are about slavery, the great issue of American politics from the 1840s to the 1860s.  (Mr. Lincoln was not a fan.)  But there are also responses to his ne'er-do-well stepbrother's requests for money, a description of his disastrous courtship of a woman who turned out not to be interested, musings on scientific discoveries, and even a stab or two at poetry.
There's a certain amount of redundancy, in particular on the subject of slavery and whether it should be allowed to spread to the Territories.  (Lincoln at one point discusses this in a letter to his wife Mary; now that newspapers were printing his speeches widely, audiences already knew his best material.)  This volume has all of Abraham Lincoln's speeches for his debates with Stephen Douglas (but not Mr. Douglas', so here we have only Mr. Lincoln's word for what Mr. Douglas said) and there's a large amount of repeated wording and ideas.
What comes through in this material (though I must point out that these writings are "selected" so that choice itself shapes the story) is Lincoln's belief in the Preamble of the Declaration of Independence and its talk of "life, liberty and the pursuit of happiness" as not an accomplished thing, but a promise that had to be followed up, not just for the kind of people who had signed that declaration, but for all people.  Mr. Lincoln may not have been up to declaring that black people should be full citizens of the United States, but he was sure that treating them as property was wrong.
Also obvious is how President Lincoln moved over his term in office from hesitation to use the powers of his station to confidence in doing what he felt needed to be done within the scope of the Constitution.  (Perhaps overreaching with his War Powers.)  He didn't enter office with the intention of freeing the slaves, but of preserving the Union.  In the end, however, Lincoln did not regret freeing slaves one little bit.
Also included at the end is an explanation of how the versions of the speeches and letters were chosen when there's more than one extant, a chronology of Lincoln's life, end notes, and an index.
The writing is clear and well done with a bit of antiquated vocabulary; any bright high school student should have little difficulty reading this.  On the other hand, the redundancy of some of the material makes it a bit of a chore to plow straight through; the casual reader may want to take it slow and in small portions.
Highly recommended to Americans interested in the Civil War period or presidents.  Students will want to pair this volume with a good biography of President Lincoln for an outside perspective.