Book Review: A Curious Man by Neal Thompson
Disclaimer:  I received this volume free from the Blogging for Books program, on the premise that I would write a review.
This is a biography of Robert Ripley (nee LeRoy Robert Ripley), the cartoonist who created the Believe It or Not! feature.  I was fascinated by the paperback reprints of the cartoons back in my boyhood, but knew little of the story behind the creator.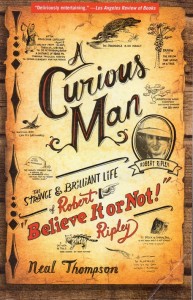 This volume covers Mr. Ripley's life from barefoot poverty in Santa Rosa, California, to his early career as a sports cartoonist, through his discovery of a love for bizarre factoids and the creation of his famous comic strip to his worldwide fame.    He became a world traveler, a millionaire, star of radio and newsreels and knew many beautiful women, all for doing something he enjoyed immensely.
Of course, he also had his faults; Mr. Ripley was a heavy drinker, sexist, racist by our current standards (though progressive for his time), could not keep it in his pants, and had a tendency to fudge facts about his own life the way he didn't the stories in his cartoons.  He also became a more difficult person towards the end of his life as his health failed and his drinking and overwork caught up with him.
The story of Ripley's life is told in mostly chronological order,  with little "Believe It!" factoids about the people and places mentioned.  There's also the story of various supporters of Ripley; most importantly, Norbert Pearlroth, Ripley's main research person who found many of the factoids that appeared in the comic.  (He actually stayed with the strip longer than Ripley himself!)
There is a black and white photo section in the middle, but if you have a smartphone, you can download an app with audio and video clips from Mr. Ripley's many public appearances.  For those of you with multimedia capability, this will make the book a much better value for money.  There are extensive end notes and an index as well.
This biography benefits from the very interesting person at its center, and I would recommend it to any Believe It or Not! fans.