Comic Book Review: Wonder Woman '77 Volume 1 written by Marc Andreyko
Back in the 1970s, live-action television series with a woman in the lead were rare creatures indeed, and one of the best was Wonder Woman, starring Lynda Carter.  It migrated from ABC (where it was set during World War Two) to CBS in 1977, and it is this "modern day" series that this comic book series is based on.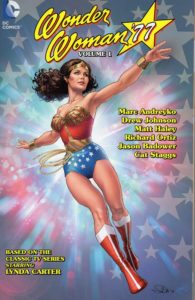 In this version, Wonder Woman works for the Inter-Agency Defense Command in her secret identity of Diana Prince, along Steve Trevor, Jr.  Steve may or may not know  that Diana is also Wonder Woman, but at least in these issues, he doesn't officially know or make a fuss about it. They have access to the latest 1970s technology, including the advanced computer IRA, but Wonder Woman's powers and compassion are usually the main key to victory.
Where this comic book series varies from the TV version is that the live-action version used none of WW's comic book supervillains, so versions of these compatible with the show's look and feel are inserted.
The first story takes place mostly at a disco, where a Soviet defector scientist must be protected from mind-controlling songstress Silver Swan.  Diana's outfit for this is based on the "white pantsuit" look she had during a brief period where the comics depowered her (to make her more "relevant.")
The second story opens with Diana waking up in a world where she is not Wonder Woman or Diana Prince, but a mentally ill woman named Donna Troy.  There are some nifty references to the Cathy Lee Crosby TV movie, and the post-Crisis WW continuity.  Diana must figure out what's going on and fight her way back to the reality she knows.
Next, there is a story that uses the Barbara Minerva version of long-time supervillain the Cheetah.  It brings in elements of the Priscilla Rich version of the character as well–Dr. Minerva is driven by jealousy when the museum she works for dismantles her prize exhibit involving years of scholarship and hard digging for a Wonder Woman-centric publicity grabber.  This allows the Cheetah spirit to take over her body so that Barbara can try to get her revenge.  The climax is a showcase for Diana's gentle spirit being able to overcome Cheetah's command of great cats.
Original (so far as I know) villain Celsia takes center stage next.  Due to a nuclear power plant accident that killed her home town, Celsia can project both heat and cold.  She is determined to punish the men who placed profit over life and safety.  We also get a version of the Atomic Knights, including a not-named Gardner Grayle.
And finally Diana has an encounter with the swamp monster Solomon Grundy on Halloween.  Grundy may not be the real monster here…  (Warning: domestic abuse.)
The issue is filled out with an essay by Andy Mangels about the television show, plus a gallery of covers and concept art.
One of the things I really like about this series is Wonder Woman's dedication to non-lethal force, something that has largely been lost in recent years.  Yes, punching bad guys is an important part of her problem-solving style, but whenever possible, she uses truth and compassion to bring about resolutions.  This Wonder Woman smiles a lot, and inspires others to be better people.
Some of the 1970s elements do come across a bit cheesy, but this is not entirely a bad thing, as they fit with the feel of the show.  On the other hand, the very episodic stories mean that there's no character growth or deeper characterization–what you see is all you are going to get.
The art is okay, with Diana and Steve being on model most of the time.
Recommended to fans of the TV show, Wonder Woman fans who prefer a lighter style and younger readers.  (It should be okay for tweens with a little parental guidance.)
And let's enjoy that theme tune!