Manga Review: The Ancient Magus' Bride Vol. 1 by Kore Yamazaki
Chise Hatori has had a rough life.   Her father ran off with her little brother, her mother committed suicide (probably), and her ability to see magical creatures got her bullied and abandoned.  She was on the verge of suicide when Chise was approached by a black market auctioneer who explained that she was actually special, and valuable under the right circumstances.  He convinced her to allow him to sell her into slavery.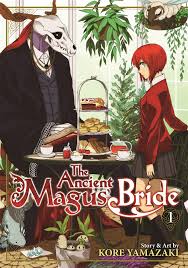 It's probably fortunate that the high bidder is Elias Ainsworth, a not quite human mage from Britain.  He removes Chise's chains and whisks her to his home to become Elias' apprentice.  Oh, and eventually his bride.
This shounen (boys') fantasy manga is now getting an anime adaptation, and has been generally well-received.
Elias explains some, but not all, of what's going on.  Chise is what mages call a sleigh beggy, a powerful natural mage that attracts other supernatural beings.   Children with magical talent have become rare in the modern world, especially as many of their possible progenitors were slain in "the last great war", but sleigh beggy are one in a generation.  Elias is anxious to teach her how to control her powers.
Chise also meets some Ariels, who are of the Fair Folk.  They don't like the term "fairies", perhaps "neighbors" is a good word?   They can be helpful, but also very dangerous as their idea of "help" is not always what humans would think of that way.
In the next chapter, Chise meets Silky.  She's a "neighbor" who acts as Elias' housekeeper, and does not speak.  As well, Elias takes Chise to meet Angelica, an artificer specializing in magical jewelry.  Angelica explains some of the basic rules of magic, and notes the difference between mages (who bend the world's energy to their will) and alchemists (who use a more scientific approach.)
Then Simon Cullum shows up.  He works for "the Church" though it's unclear if that means Catholic or Anglican.  Simon is supposed to be keeping watch on Elias, but is hands-off in exchange for the mage taking care of magical matters that the Church should not be handling.
First off, there's an ancient dragon dying in Iceland, the last known dragon sanctuary.  A bit sad, but not the tragedy you might have expected.
Then it's off to Ulthar, where it is a crime to kill a cat.  (See also H.P. Lovecraft on this subject.)  Long ago, a resident was driven to despair and broke this law, killing many cats in cruel ways.  He was…dealt with.  But his unclean spirit still remains, and has grown dangerous again.
Elias' magic is not suited to the task of banishing the spirit, but Chise's might be.  Untrained, this will be her first true test.  But before Chise can begin the ritual, she's ambushed by a mysterious pair that have other motives, and a grudge against Elias!
This early part of the story is heavy on the sense of wonder as Chise learns more about the world of magic and her own potential, but maintains an undercurrent of menace.  Even the friendliest of "neighbors" can lead you astray.  It's clear that Elias has a past that has not always been on the straight and narrow.
And many questions are raised.  Why did Chise's father abandon her?  Are any of her relatives still alive?  If her gifts are so powerful, why did no one contact her until now?  What, precisely, is Elias, with his animal skull head?  Why does the Church have a watch on him?  (Some of these, at least, will get answered.)
The slavery thing is icky, though Elias and Chise's relationship quickly drops those terms for "apprentice" and "bride."  The latter might also be rather icky, depending on what that actually means in a mage relationship.
There's also bits of humor, such as Elias crafting his "human" disguise after Simon as he was under the impression that man was handsome.  (Chise finds the face "sketchy.")   The overall art style is good, and Elias manages to be expressive despite his immobile features.
Chise is rather passive in these chapters, more concerned with being safe than expressing her own opinion, but does show flashes of personality.  She can be rather blunt when need be.
Elias seems pleasant most of the time, but exhibits a lack of understanding of human society and emotions from time to time.
This is a promising beginning which should work well for young adult fantasy fans.