Manga Review: Dawn of the Arcana 1 by Rei Toma
Princess Nakaba has bright red hair.  This is not a rare hair color in her homeland of Senan; indeed it's all too common.  Both in Senan and its southern neighbor Belquat, all the nobility and royalty have pure black hair.  Her flaming tresses suggest that Nakaba is the product of an affair with a peasant, or some weakness in her family line.  Thus she has long been shunned and mistreated by her royal relatives.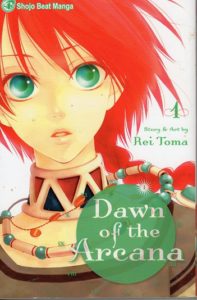 When the time comes for a political marriage to quell the periodic military tension between Belquat and Senan, Nakaba is chosen for the task as a deliberate slap in the face to both her and the royal family of Belquat.  The brides in these marriages tend to turn up dead in suspicious circumstances a few years later, so sending Princess Nakaba both tells her how expendable she is, and informs Belquat that their princes are not worthy of purebred wives.
Prince Caesar of Belquat isn't too thrilled with this marriage either.  He's the younger son of the royal family, but also has a claim on the throne as Prince Cain is the son of a concubine, while Caesar's mother is fully married to the king.  His mother's people are scheming to make him the heir, but Prince Caesar has no interest in ruling Belquat when Cain could do a perfectly adequate job.  Caesar is not a particularly talented warrior, and has won what combat skills he has by long practice.
Princess Nakaba's sole ally at court (at least at the beginning) is her servant Loki, who has been with her since childhood.  Loki is a member of the Ajin race, humanoids with animalistic ears and tails.  Their senses are sharper than ordinary humans, and their great strength and superior reflexes make them natural warriors.  Ajin are an underclass who are allowed to be servants at best, and are often massacred to keep their numbers down.  Loki is devoted to Nakaba, not least because he knows she has a hidden power called "Arcana" that is about to blossom.
This shoujo fantasy manga was first published in 2009.  There's heavy romance elements as Nakaba and Caesar must try to make their marriage work despite being enemies, and deal with the passions of other people who have their own love or political objectives.
This first volume has three long chapters.  We first meet the royal couple shortly after the official wedding ceremony.  They don't like each other, but have to put a polite face on in public and both are trying to make the marriage work to the extent that's possible.  Princess Nakaba makes an etiquette blunder at her first dinner with the new family,  King Guran takes the opportunity to sentence Loki to death (he really hates the Ajin) but the servant is able to escape.
While Prince Caesar is no fan of the Ajin either, he does pledge to get the death sentence revoked if Loki shows his loyalty to Nakaba by returning to her before dawn.  Loki does, and Caesar stands by his promise.  However, the way the promise is fulfilled in no way endears Loki to Caesar.  Despite that, this marks a turning point in Nakaba and Caesar's relationship as they begin to see each other's positive traits.
I've looked ahead a bit, and there are many plot twists to come, starting with the true nature of Princess Nakaba's Arcana.
The art is decent, as is the writing.  There's a certain amount of violence, so the publisher has rated this series as "Teen."  There are a couple of forceful kisses, but Caesar backs off his insistence on enjoying his "marriage rights" when Nakaba puts up a fight.
Recommended for fans of fantasy romance.