Comic Book Review: Showcase Presents Super Friends by Various
Back in the 1970s, there was a Saturday morning cartoon titled Superfriends.  It featured several superheroes from DC Comics,, plus "Junior Super Friends" Wendy and Marvin, trainee superheroes with their pet Wonderdog.   Each episode taught valuable life lessons to kids across America.  While reruns of the cartoon continue even today, younger fans may not be aware there used to be a tie-in comic book as well.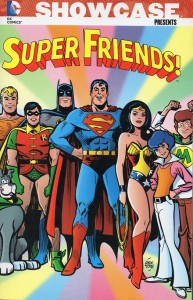 Because the Comics Code of the time was surprisingly less restrictive than the Standards & Practices Board that governed children's broadcasting, the writers of the comic book had more flexibility to put in story elements that explained how the team worked, and the full range of the heroes' powers.  The book took place in a close parallel of the DC universe, so other superheroes could guest star.
Now, I said the writers could be more flexible than the TV show, but I am still amazed that they got away with mass murder as a plot point in the third issue.  Some of the deaths even happened on panel!  And they weren't even reversed by the end of the story.  To explain, a mad scientist captures over a hundred supervillains (none of whom were established characters) and disintegrates them to create the World-Beater, which has all their powers combined.
After a few issues, the comic book explained (as the show never did) the change from the first season's Marvin and Wendy, to the later Wonder Twins, aliens named Jan and Zayna.   This was a truly epic plot which also introduced a slew of international superheroes who later joined the mainstream DCU as the Global Guardians.  (It also gave the comic some much-needed ethnic diversity.)
Many creators worked on the series, but the distinctive art of Ramona Fradon is perhaps most representative.
Aside from the mass murder, this is a kid-friendly title; there are some dated attitudes that parents might want to discuss with their children.  The writing is typical for the time period, and certainly better than the television show.
Recommended for fans of the Superfriends cartoon and nostalgic comics fans.