Book Review: Ben-Hur by Lew Wallace
Judah of the house of Hur is a handsome and wealthy seventeen-year old Judean, saddened by the death of his father, but still possessed of a wise mother and sweet sister.  He's initially pleased when his Roman friend Messala returns to Jerusalem from several years being educated in Rome.  But Messala has learned the wrong lessons, sarcasm and arrogance, and blasphemes Judah's deeply held religious and cultural beliefs.  The two young men quarrel.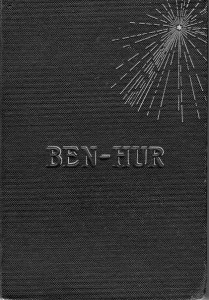 Judah resolves to become a soldier, but this ambition is detoured when he accidentally drops a roof tile on the new Roman governor of Judea, Valerius Gratus.  Gratus, with the connivance of Messala, chooses to interpret this as an assassination attempt, seizes the Hur property, imprisons Judah's relatives, and sentences Judah to the slave galleys for the rest of what is assumed to be a very short life, without an actual trial or legal conviction.
Three years later, The rowing and a certain amount of cleverness has turned young Judah into a physical marvel, and he catches the eye of a wealthy and prominent Roman admiral.  When he subsequently saves the admiral's life (and it's established he was never legally enslaved in the first place), that worthy adopts him as a son to learn Roman combat skills.
Some time later, Judah returns to the East, equipped for vengeance on those who wronged him, they who will learn to fear the man called "Ben-Hur."  But maybe Judah isn't actually the important character here.  Maybe he's just a side story in "a tale of the Christ."
This 1880 novel was a huge seller for former Union general Lew Wallace, who was governor of the New Mexico Territory at the time, and later became ambassador to the Ottoman Empire (which allowed him to actually visit the area he'd written about.)  Indeed, it became the best-selling novel of the Nineteenth Century, and one of the most influential Christian fiction titles of all time.  You may remember the 1959 movie with Charlton Heston.
So, how does it hold up?  To be honest, it's aged badly.  The story moves at a crawl for most of the book, with pages upon pages of excessive description.  In fairness, when this was written, the reading public didn't have years of movies and television shows to give them instant mental pictures of the exotic localities and clothing of ancient Judea, so Mr. Wallace needed to go into details of setting and costume.
Judah Ben-Hur doesn't even show up for the first eighty pages, as we are treated to a retelling of the Nativity which focuses on the viewpoint of Balthasar, the Egyptian wise man who eventually befriends Judah.  The first chapter is actually a very good example of scene-setting, placing us in a desert in the middle of nowhere, with a white camel that has neither bridle or reins, ridden by a man who gives it no direction at all.  When the camel stops, the man prepares a tent with places for two others.  Two white camels, similarly not guided by human hand, approach from different directions to this rendezvous in the trackless desert.  Their riders dismount, and the three men greet each other with a prayer in their three native tongues–and all of them understand each other perfectly!
The second chapter reveals one of the difficulties for the modern reader, as the characters do not so much talk to each other as declaim at each other, making the dialogue a chore to get through.  On the other hand, this is about as much characterization as we get for the Three Wise Men in any adaptation, so that's nice to have.
The section where we meet Mary, mother of Jesus, is also interesting.  Mr. Wallace takes a vague description of King David as artistic license to portray Mary as beautiful by Nineteenth Century America standards–blonde, blue-eyed, fair-skinned with delicate features.  He goes into great detail about her face, her clothing, her movements and speech…and never once mentions in the narration or in dialogue that she's nine months pregnant at the time.  There's just suddenly a baby a couple of chapters later that she claims to be the mother of.
I should point out that despite the archaic nature of the writing, there is a good story going on here that was lifted out for the movies.  If the reader is patient, there is much to enjoy.
One plotline that didn't make the 1959 movie is the existence of Ben-Hur's other love interest, Iras.  She's the daughter of Balthasar (he presumably married late in life; there's no mention of her mother), beautiful, musically gifted, learned in poetry and capable of acting on her own initiative.  She makes a good contrast to Daddy's girl Esther, who is more modest and self-effacing, and Iras takes an early lead in the romantic triangle.
However, Iras' motivation is largely based on the notion that the Jewish Messiah will be an earthly king that Judah will serve, and become powerful thereby.  The notion of a spiritual savior, so dear to her father Balthasar, doesn't appeal.  So when Jesus turns out to be more the latter than the former, Iras falls back to her other interests.
This is pretty much Bible fanfiction, so those who don't like "God-talk" or having a Christian viewpoint forced on them are likely to dislike this book.  Some readers might see homoeroticism in certain passages, as Judah is so handsome that even other men notice, and Messala outright uses classical allusion to hint he's attracted.
All that said, this is an important and influential book; if you're willing to put up with its difficulties.  On the other hand, you could just watch the movies for the chariot race.