Comic Book Review: The Complete Voodoo Volume 1 Edited by Craig Yoe
EC was not the only publisher putting out lurid horror comics during the brief period between the post-World War Two decline of superhero books and the installation of the Comics Code.  Others quickly followed in their footsteps.  Robert Farrell was one of those who got on the bandwagon with his company that was eventually called Ajax Comics.  His most successful horror title was Voodoo, which ran long enough to fill three of these collected volumes.  This volume covers issues 1-6.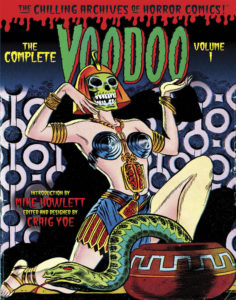 Mr. Farrell was big on recycling, so several of the stories in these early issues are repurposed from the "jungle" subgenre comics that were also popular at the time.  One of the prominent character types in that subgenre is the "jungle goddess", a woman (usually white) who acts as guardian to her patch of tropical rainforest.  The first story in the volume, "The Shelf of Skulls" features Olane of the Banishing Islands somewhere in the South Seas.  The frame story is of a wealthy man who collects skulls; his wife (who is planning to murder him with her lover) finally gets him to show her the collection.
Mark Trent is a rather cruel person, and insists on telling her how he acquired the latest addition to his collection.  It seems he was involved in a feud between Olane and a headhunter.  Trent was given the skull of the headhunter in exchange for a promise never to return to the islands.  But there's a twist–Trent's got a new hobby, and his wife is not going to like this one at all!
The "jungle goddess" thing gives Olane the chance to be a much more active heroine than was the norm at the time, especially in the horror genre.    There are technically no supernatural elements in this first issue; all the menaces turn out to have rational explanations.
"Zombie Bride" in issue #2 is as close as this volume comes to actually featuring voodoo.  The zombies of Haiti are intelligent undead under the control of a master zombie, who can make more from living humans by a special ceremony.  A man must make a chilling choice when he discovers that his lovely wife has been turned into a zombie.
In issue #3, "There's Peril in Perfection!" is a rather sexist tale about an expert in beauty who creates a robot to be "the perfect woman."  Unfortunately, he is unable to handle it when Cynara begins to have emotions that make her all too human, and tragedy ensues.  All blame is placed on the woman, and not the men who made her that way.
Issues #4 and on were almost completely straight up horror as the inventory stories ran out.  Most of the art and writing was done by the Iger Shop, which had a factory-like approach to churning out stories for their client publishers.  Most of the credits are unknown, and two or three artists might have collaborated to finish a single tale.  Some stories come off very well, while others are uneven.
The volume ends with "She Wanted to Know…the Black Future."  College student Lila Simmons is taking a minor in the occult, and decides to try out one of the spells in the old books she's been reading.   Theoretically, it will allow her to see into the future.  But when Lila performs the ritual, she sees only the face of Death!  What does this portend?  Well, what do you think it portends?
Like many Pre-Code horror books, these stories are filled with women in form-fitting or scanty outfits, and some rather racist treatment of non-white people (but not to the vaudeville-level some Golden Age comics used.)
This doesn't rise to the levels of EC stories, but is still grisly stuff to be enjoyed by fans of old-fashioned horror.  I found this copy in the library, and you may be able to do so as well.