Book Review: Goblin Quest by Jim C. Hines
Jig has always lived in the mountain, only hearing third-hand stories about the outside world.  Even stepping outside the goblin warrens is dangerous, why risk going any further?  Still, he dreams of being promoted from his lamplighter duties (a child's job) to a patrolling warrior.  Jig's smart, but that counts little in goblin society when he's also small and weak, with poor vision.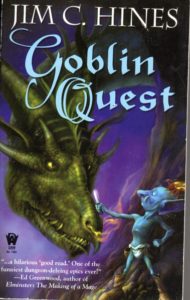 Then  one day Jig is bullied into acting as a scout for a lazy patrol, only to find himself captured by adventurers who have killed the rest of the goblin patrol.  A captive, Jig is forced to become a guide for the party of four.  There's Prince Barius, a younger son touchy about his honor and his low status among his siblings; Ryslind, Barius' brother whose magic seems to be adversely affecting his sanity; Darnak, a dwarven cleric and tutor to the brothers, and Riana, an elvish pickpocket who was also dragooned  into serving Barius.  It seems they're after the Rod of Creation, a powerful artifact that supposedly created the mountain itself.  Jig's chances of survival just keep dropping!
This is the first volume in the "Jig the Goblin" trilogy of comedic fantasy novels by Jim C. Hines, who was a Guest of Honor at Minicon 52.  It's heavily based on the kind of "kill monsters and take their stuff" style of fantasy common to games of Dungeons & Dragons, and in specific seems to be parodying aspects of the Dragonlance series of D&D tie-in novels.
One of the common hallmarks of comedic fantasy is to tell the story from the viewpoint of someone who isn't the typical hero of heroic fantasy stories, and in this case, it's one of the "monsters" who would normally be cannon fodder to allow the protagonists to show off their prowess before getting to really tough opponents.
Jig is initially only sympathetic because of his underdog status; he's cowardly, selfish and all too willing to let others suffer or die in his place.  As the story progresses, Jig has his horizons expanded as he learns about the adventurers from their perspective, and realizes that goblin social norms put them at an even greater disadvantage than they already had due to their small size and lack of technology.  He even finds a god!
Meanwhile, the adventurers are no heroes; Prince Barius' motive for seeking the Rod is entirely self-centered, Ryslind has a hidden agenda, Darnak is at least honorable, but must serve the brothers' will, and Riana is only serving due to a threat of prison or execution.
And that's not getting into the truly strong and evil monsters that wait deeper within the mountain.
Once Jig is dragooned into the party, the plot is a fairly straightforward dungeon crawl with some backtracking towards the end.  The back half of the book reads quickly, and the ending is reasonably satisfying.
Recommended primarily for fans of the tabletop role-playing games the setting is based on.