Manga Review: Behind the Scenes!! Volume 1 by Bisco Hattori
Ranmaru Karisu is a couple of months into his freshman year at Shichikoku University, but he still doesn't know anyone.  A shy, sensitive boy, he's had bad luck with social relationships in the past and shrinks from the crowd.  Until the zombies attack!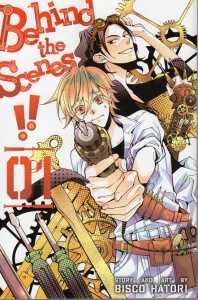 It turns out to be an amateur movie shoot with poor security planning, but the director blames Ranmaru for ruining it anyway.  Ranmaru's used to being blamed for things and spirals into depression.  However, the art crew (the people who handle costumes, props, makeup, backdrops, etc. for movies) club realizes it wasn't really his fault, and let him sit for a while in their workshop.  It turns out Ranmaru has excellent observation skills when he's not crowded, and he's very artsy-crafty.  The leader of the art crew, Ryuji Goda, decides that recruiting Ranmaru for their club is a top priority.
The author's previous series, Ouran High School Host Club, was very popular and got a live-action adaptation.  Ms. Hattori was very impressed with the work of the art crew on that and befriended one of the workers, which led to the idea for this shoujo manga series.  The main characters' names are based on those of famous movie directors, which is more obvious with Japanese name order.
The University has four film clubs, but only one art crew, which has to handle many different projects simultaneously.  This allows the manga creator to showcase various aspects of behind-the-scenes film creation, and draw fun costumes.  In the tradition of school club series, the characters are quirky and have different special talents.
Ranmaru is very talented, but he grew up in a family that did not appreciate his gifts (his clan are all macho fishermen) and his attempts to help others with his skills often backfired, so he's under-confident and prone to fits of self-excoriation.   He's learning about film production for the first time and is not familiar with the etiquette and procedures associated with the industry.  Fortunately the rest of the art crew is good at picking up on when they need to encourage him.
Goda's kind of overbearing, and can be a jerk, but is also skilled at his work and a good planner, so he isn't unbearable.  The rest of their crew is less developed in the first volume, defined primarily by their specialty and/or basic personality quirk.  ("Likes horror movies way too much" for example.)
The family Ranmaru is boarding with may be distant relatives; he's cooking for them instead of paying rent.  The daughter about Ranmaru's age is kind of snotty, not wanting to be associated with him in public.  (I suspect a romance subplot coming down the road.)
The final story in this volume has a character LGBTQ readers might be uncomfortable with due to stereotyping.
Overall, a light, interesting introductory volume with decent characters and art.  Fans of the author's previous series, and those interested in the craft of movies should like this.