Magazine Review: Thrilling Mystery March 1936 by various
Thrilling Mystery was a pulp horror magazine created by Thrilling Publications; I've been unable to find publication history details in a quick search.  It specialized in "weird menace" tales, which had supernatural trappings but were ultimately revealed as having non-supernatural (but not necessarily plausible) explanations.  It did not, however, stick entirely to such stories.  This issue was reprinted by Adventure House, so let's see what's inside.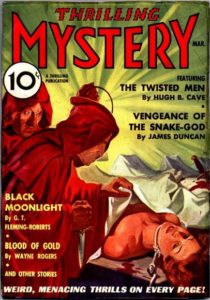 "The Twisted Men" by Hugh B. Cave starts us off with the tale of a young couple who've come to the wife's isolated New England hometown to purchase a summer home.  Peter and Jo Smith (names changed to protect the innocent) soon discover that some force is taking healthy, sane men, and turning them into twisted, mentally deficient monsters that soon die as their bodies are no longer able to support life.
The explanation is allegedly scientific, but the near-instantaneous transformation of the victims (always done while they are off-page for a few minutes) is highly implausible to say the least.  Some great atmosphere, though.  (Also a completely unnecessary mention of Jo being naked at one point for the "spicy" factor.)
"Cold Arms of the Demon" by Jackson Cole is the non-"weird menace" story in this issue.  There's something in the lake that likes to drown young women, and staying out of the lake is not a defense.  Good thing there's a ghost writer in the area!
"Black Moonlight" by G.T. Fleming-Roberts is set in an isolated mountain community, probably in Appalachia.  Despite the best efforts of pretty schoolmarm Helen Dahl, the benighted locals have fallen into the clutches of a doomsday cult that promises the end of the world tonight when the moon is destroyed.   And given that frozen corpses are showing up in the middle of summer in a town with no electricity, the cult just might be on to something.
Good thing Helen's fiance Larry Brit and town doctor Kayne are not so superstitious!  The story hinges on the notion that the ignorant rural folk don't understand the concept of an eclipse and wouldn't have noticed it coming in the Farmer's Almanac.
"The Howling Head" by Beatrice Morton concerns anthropologist Gregg Hartnett coming across a woman's head howling in the middle of nowhere.  This proves to be a trap by cannibals.  Period racism and the concept of Social Darwinist atavism (sudden resurgence of ancestral traits, particularly among non-white people) make this an uncomfortable read.
"Vengeance of the Snake-God" by James Duncan stars reporter Gary North, who is engaged to Marion Cravath, daughter of archaeologist Hugh Cravath.  They've come to Mr. Cravath's isolated mansion to gain his blessing on their relationship.  That plotline is derailed when the pair stumble across a corpse in the driveway.  It seems Mr. Cravath raided the tomb of Cla-Mir, high priest of the Egyptian snake god Musartis, and brought the fabulous jewels within back to the States.
There is supposedly a curse on the jewels, and this is the second person to die horribly in a similar manner.  Mr. Cravath had called in detective Paul Medal to protect him, but that worthy admits he's baffled.  The phone lines have been cut, the vehicles rendered inoperative, and the house's occupants are dying one by one.  Musartis strikes!
Period racism and ableism, though this time misguided.  The sinister Egyptian little person is a red herring.
"Spider's Lair" by C.K.M. Scanlon initially looks like a love triangle story.  Jeff is a bank cashier who is in love with Nancy Shelby.  She's currently dating Clinton Banning, a slick fellow who was recently raised to vice-president by the bank president, Harmon Tabor.  Jeff has been suspicious of Banning for a while, as his work hardly seems of the quality to deserve such a promotion.  The detective agency Jeff hired to look into Banning's background has discovered a wife that Banning never divorced (and has never mentioned to Nancy.)
Nancy's weak-willed little  brother Paul Shelby asks Jeff to come along on a triple date to Spider Island that Banning is organizing.  Paul will be bringing along his current squeeze, Dolly Pollard, and there's a third woman coming along for Jeff, a beautiful but mysterious lady named Rose Larue.  Jeff decides this outing will be the perfect chance to get Banning alone and confront him with Jeff's knowledge of the abandoned wife.
Spider Island has a sinister reputation, but that might just be because of all the spiders.  Or that it was the lair of pirate Spider Murgler.  Or it might be because of the actual point of the expedition, which is far more lethal than Jeff ever expected.  A nifty if highly implausible murder method is involved.  And maybe a bit more love triangle.  Content warning: torture.
"Blood of Gold" by Wayne Rogers (no relation) has seven young people from the wealthier classes and their chauffeur going on a treasure hunt out in Colorado, based on a map found in one's father's trunk.  Most of them will not be making it out alive.  Has some good twists, but again the science explanation for what's going on is highly implausible.  This is the closest story to the cover illustration, but not quite right.
"The Man Who Died Twice" by Bret Altsheler concerns an attempt to bring a man back from the dead who should have remained a corpse.  Once again, dubious science.  The intro tells us the author also wrote "The Gods Laugh at the Red Maggots" which is a far more intriguing title.
The magazine ends with the "Horror-Scope" column by "Chakra."   The main feature is retellings of various real-life serial killer cases.  Then there are questions from readers, one on ghosts and the other two on torture.  One of these may be useful to writers looking for authenticity in 1930s gangster stories.
The Adventure House reprint includes the original ads and illustrations.  A good selection of the "weird menace" subgenre, but be warned that in every tale, the role of the main woman is to be rescued by the hero.