Manga Review: Cells at Work! 01 by Akane Shimizu
It's red blood cell AE 3803's first day on the job.  She's just delivered her first package of oxygen to the outer limbs, and is about to take a package of carbon  dioxide back to the lungs.  Unfortunately, she gets caught up in a pneumococcus invasion.  White blood cell U 1146 is on the job with his teammates, but one germ manages to escape into the bloodstream.  The two cells meet up later as RBC gets lost on the way to the lungs, and WBC decides to escort her back due to the current danger.  But they may have fallen into a deadly trap….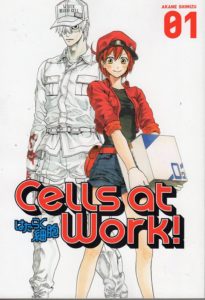 Educational comics are a great way for kids to learn the basics of a subject and be entertained at the same time.  In this Osmosis Jones-like manga, (originally published as Hataraku Saibou) the subject is the cells of the human body.  The various kinds of cells are personified, and we see them at work in various crisis situations.  After the pneumococcus chapter, there are stories about pollen allergies, influenza and scrape wounds.  While RBC and WBC appear in each chapter, different cells also get the spotlight.  Memory cells that remember ancient legends, T-Cells that go from weak "naive" cells to "effector" killer T-cells, and many others.
The educational system for cells appears to be inadequate, as AE 3803 needs to have the functions of cells explained to her as they're encountered.  U 1146 is a veteran germ fighter who often comes across as scary when he gets the urge to kill.  No clean zap guns for this guy, he stabs intruders to death with a short knife, as do the other white blood cells.
As you might expect, this does mean a lot of blood is spilled, and some parents might feel uncomfortable having their middle-schooler read the series.  We learn nothing about the human these cells are inside in this volume.  Thankfully, there's no fanservice beyond the female red blood cells wearing shorts.
There are some nice monster designs for the germs, and translation notes in the back.  This series would make a nice gift for the budding biology student, and is a decent read for folks who just want to refresh their memory on the functions of cells.