Manga Review: Samurai Executioner Omnibus 2 written by Kazuo Koike, art by Goseki Kojima
Yamada "Decapitator" Asaemon is the o-tameshiyaku, sword-tester for the shogun and official executioner of criminals.  It's not a pretty job, but at least he has one in Edo-era Japan, during a time of peace.  Without wars to fight, many of the samurai vassals are on tiny stipends, while ronin without lords can at least get paying jobs if they're willing to be a bit flexible in their ethics.  The merchant class is getting richer, while the underclass of urban poor swells and rural farmers are oppressed by their petty lords.  The social conditions breed crime, so there is always plenty of work for Yamada.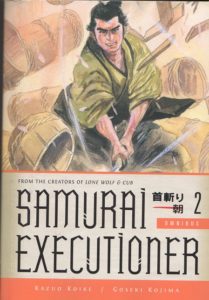 This seinen (young men's) manga series is by the creators of Lone Wolf and Cub, and shares many of the themes and settings.   Unlike that earlier work, however, there does not seem to be an overarching plotline.  The stories are episodic, and most could take place in any order.  Two stories do, however, guest star young cop Sakane Kasajiro, an expert with his hooked chain.  Yamada helps him discover new ways of using his weapon to protect lives.
Yamada takes a grim satisfaction at being expert at his craft, able to decapitate the condemned with a single stroke and thus minimize their pain.  He was raised from early childhood to succeed his father as executioner, and has chosen to remain single to avoid condemning his children to the same path.  (One story in this volume has him briefly reconsider, but it is not to be.)  Yamada seems happiest when he can bring small moments of joy into a person's life, and is often sought out for sage advice.
The first story in the volume has Yamada challenged for the post of sword tester by Tsukuya Bakushuu, a poverty-stricken and largely self-trained swordsman.  They participate in a contest of suemonogiri, precision cutting.  Tsukuya loses, but cannot accept this result.  It ends in tragedy.  To be honest, at least half the stories here end in tragedy, not surprising, given Yamada's job.
The closing story is particularly hard to stomach.  O-Toyo murders the woman her lover abandoned him for, and mortally wounds the cheater.  However, it's a slow death wound, and he could live up to four months with good treatment.  Her execution will be in three months, and O-Toyo wants to outlive the man out of pure spite.  As it happens, there's one way for a woman to get her execution delayed–getting pregnant.  Now, how is that going to happen when she's locked in a women's prison?  Yes, the story is going there.  There are other examples of female nudity and rape in these stories, but this is the most brutal.  And then the ending comes, and it is even more brutal.  Even Yamada is shaken.
Also outstanding is the story "Tougane Yajirou", about an elderly police officer whose use of force is considered excessive even by the standards of the time, and who is much more interested in catching criminals than in preventing crime.  Yamada disapproves, but there is a story behind the old man's cruel behavior.
Koike and Kojma do a masterful job of depicting a world that is both very familiar in its everyday life, and alien in its way of thinking.  This omnibus edition combines three of the Japanese volumes, and is presented in the expensive and time-consuming fully-flipped format, so it reads left to right.
Recommended for mature readers who enjoyed Lone Wolf and Cub or are otherwise fans of samurai action.