Book Review: Pacific Crest Trailside Reader: Oregon and Washington: Adventure, History, and Legend on the Long – Distance Trail edited by Rees Hughes and Corey Lewis
Disclaimer: I received this book from a Goodreads giveaway on the assumption that I would write a review.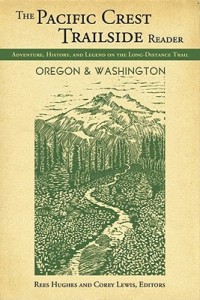 This anthology is a collection of short stories and essays regarding the Oregon and Washington legs of the Pacific Crest Trail, and there is a companion volume covering the California leg. Most of the pieces are true stories of hiking the long trail, but there are a couple of Coyote tales and some historical notes, as well as an essay on Mount St. Helens (not on the trail but visible from it) by Ursula K. LeGuin.
The stories take up only a few pages apiece, which makes it excellent reading for times when you only have a short minute or two to spare. There's a strong unity of themes, and if you're bored by tales of the great outdoors, this may not be the book for you.
I'd highly recommend this book to hikers, outdoorsy types and armchair adventurers; it might also do well for young adult readers and students who are taking related courses