Book Review: The Avenger #7 (Murder On Wheels, The Three Gold Crowns and Death To the Avenger)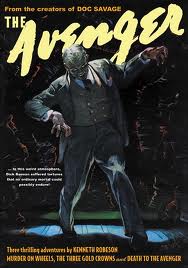 The Avenger is one of the classic hero pulp characters, a man so strongly affected by a horrific crime that all color drained from his skin and hair, and his face became frozen.  Determined that no one else should suffer as he had, Richard Benson gathered a few allies who felt as strongly as he did about crime, and founded Justice, Inc.
This volume is one of the Sanctum Books reprints, containing several stories.
"Murder On Wheels":  The plot of this story involves a stolen prototype super-car that revolutionizes automotive engineering.  But it's far more notable for being the story in which Kenneth Robeson (actually Paul Ernst using the house name) changed the Avenger.  Apparently, sales of the Avenger magazine weren't doing as well as expected, so management decided that perhaps the Avenger was just a little too weird for the readers to relate to.  So it was that Richard Benson was subjected to a super-science death trap that didn't actually kill him, but did cure his albinism and nerve damage.  He was also de-aged by the narration.
The story also introduces Cole Wilson, the last member of Justice, Inc. to join.  For much of the story he's a surprisingly enigmatic character, who may be playing both ends against the middle.
Murder On Wheels does show some seams where the mandatory new elements don't quite jibe with the old ones, but the writer does manage to give a sense of urgency and surprise to the Avenger's transformation,  making it clear that this is an important change.
"The Three Gold Crowns"  is the first full story of the new-look Avenger.  Justice, Inc. is hired by a man who's being blackmailed..by three of the most respected men in the city.  An anonymous tramp is run over by a train.  A young woman fears for her life after apparently witnessing a murder.  Alll of these events are connected by the mysterious three gold crowns.
After several stories with heavy sfnal or horrific elements, The Three Gold Crowns is a relatively mundane plotline.  Only a murder by way of modern painting is truly bizarre.  Instead, interest is kept up by way of twists, turns and the fact that the whole truth isn't being told.  As the new kid, Cole Wilson gets quite a bit of focus in the story.
A fine tale with an explosive ending.
"Death To the Avenger" is a later piece by Emile C. Tepperman, who took over the writing duties after the Avenger's magazine ended and he became a back-up character in other pulps.  This is a more hard-boiled tale, and a shorter one.  Richard Benson decides to get rid of a particularly well-connected mobster, only to have said criminal kidnap Nellie Gray to force a hostage swap.  Bad news, criminal, the Avenger doesn't do hostage swaps.
Rounding out this volume is a Whisperer tale, "High Explosive" by Alan Hathaway writing as Clifford Goodrich.  A mad scientist is threatening the city with a new development in seemingly unstoppable bombs, and Police Commissioner James "Wildcat" Gordon, aka the Whisperer, must stop him.  A quick, thrilling adventure.
Overall:  Highly recommended to pulp fans for the historic value–beginners may want to seek out the first volume for the more iconic tales.
,