Book Review: Waco's Debt by J.T. Edson
This book is part of the "Floating Outfit" series, about a particularly illustrious group of cowboys who work for the OD Connected ranch in Texas.   As the title suggests, the star of this volume is Waco, one of the youngest members of the crew.  Waco's foster father and brothers are murdered, and he returns to the ranch where he grew up to track down the killers and protect his foster sister Mary Anne, who has returned from education in the East.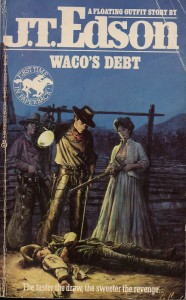 This is a Western of the old school, morally unambiguous.  The good people are good, the bad people are despicable, and soft city folk need some real rough living if they want to amount to anything.  There's a sidebar romance with one of Mary Anne's friends being wooed by a greenhorn that Waco takes under his wing.
It's a quick read, with plenty of action and a side trip to Chicago, where Waco runs into some old friends.  Waco was eventually spun off into his own series of books, and became a U.S, Marshal.  If you like your Westerns fast-paced and reasonably clean, this is a fun book.  Trigger warning, though, for some off-screen domestic abuse by the villain.