Book Review: Ghosts in the Yew by Blake Hausladen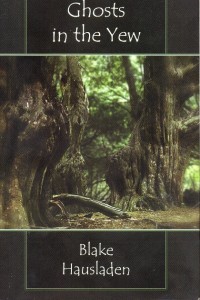 I bought this book directly from the author, who markets it by going around to conventions in person.  He's hoping that by the time he reaches the third or fourth book in the series, he'll thus have an inbuilt audience.  I will say that it seems to have done well at getting readers to actually review the book on Goodreads.  Since it's a first novel, I'm going to be a bit more nitpicky than I otherwise might.
When political scheming by Prince Barok of the Zoviyan Empire against his possibly more evil half-brother Prince Yarik backfires horribly, the young royal finds himself going into exile.  Accompanied only by Leger, an alcoholic war hero who's been appointed his alsman (head servant) as a slap in the face, Barok finds himself ruling the remote and dilapidated province of Enhedu, whose people (and the ghosts of the title) are less than happy to have him.
Soon, Prince Barok is joined by his one faithful servant, Dia, a concubine who has her reasons for being grateful to the otherwise less than admirable prince.  It's about this time that Barok learns a few things about his heritage he wasn't aware of, and that his exile might be less coincidence than fate…or someone's plan.  Now Barok must somehow restore Enhedu's prosperity and prevent its people from being forced into slavery.
There are four first-person narrators, Barok, Leger, Dia and Geart (Prince Barok's former bodyguard, who spends much of this volume in prison or slavery.)  This can get confusing, as most of them have very similar narration styles–Barok's more distinct at first, until his personality changes.  With the switching back and forth, it takes a fair amount of time before it's clear where the plot is going.
Quite a bit of time is spent on the community building part of the plotline; the author's researched well, but this does require some patience on the readers' part.  The volume is illustrated, some maps, some scene-setting photographs and diagrams, and a couple of handwritten notes that are a bit hard to read (especially the one that is supposed to be hard to read.)
I do see a lot of potential here, but this was perhaps a little ambitious for a first book.  I noticed a tendency to overdo the negative qualities of some of the villains, for example.  A neighboring lord isn't just greedy, he's fat, ugly, balding, rude and illiterate.  A meddlesome woman isn't just self-righteous and judgmental  she's also fat, lazy, nagging, frigid and either doesn't understand how pregnancy works or tells easily spotted lies about it.
This is also a book that could use a glossary.  There's three different military units that all have names that start with "H", for example, and that took some leafing back and forth to figure out which one was which.
This is a relatively low-magic setting, at least until near the end, when one of the characters really gets to cut loose.  In the final chapters, we also get a few details that make the religious struggle not quite as simplistic as "sky father religion bad, earth mother religion good," but it's a very small caveat that is likely to be more important in later books.
While it's an okay read, I would need to see some strong improvement in the next volume before recommending the series.