Book Review: Brandwashed: How Marketers and Advertisers Obscure the Truth, Manipulate Our Minds, and Persuade Us to Buy by Martin Lindstrom.
Disclaimer: I got this book through the Goodreads giveaway program on the expectation I would write a review. My copy is an uncorrected proof, and minor changes (possibly major changes to the final chapter) are likely to occur in the final product.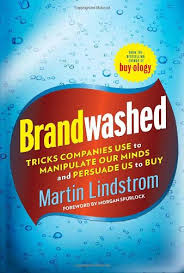 The first thing I noticed reading the introduction is that apparently Martin Lindstrom does not have a library card. Also, it's pretty clear that he has never had to look for a discarded newspaper to get the help wanted ads–let alone consider getting breakfast that way. From the introduction, Mr. Lindstrom lives a life of incredible privilege, in both the scholarly and layman's senses of the word. A glimpse into a very different world than my own.
The subtitle does a good job of summing up what "Brandwashed" is about. Like the 1957 Vance Packard classic "The Hidden Persuaders", this book looks at the various means advertisers and marketers use to manipulate consumers into buying things. Fifty years of technological and psychological innovation have vastly improved their ability to do so, of course, so you will want both books.
Mr. Lindstrom is a very successful marketing consultant, so many of the examples in Brandwashed are from his own experience. (On the other hand, most of the organizing of the book and connecting paragraphs are by his ghost writer.) I was fascinated by what he claims to have learned about how Russians *actually* feel towards vodka.
One thing I would have liked to have seen is more on how to fight "brandwashing", to prevent this manipulation from turning you into a shopping addict or spending money you don't have on crap you don't need. There's almost nothing in this line in the book, though Mr. Lindstrom does seem in favor of tighter regulations of health claims on non-drug products.
Overall, much interesting and possibly useful information. I'd recommend it to anyone interested in advertising and marketing.