Book Review: Dark Waters by Robin Blake
Disclaimer:  I received this book in a Goodreads giveaway on the premise that I would review it.  My copy was an Advance Reading Copy, and there may be minor changes in the final product.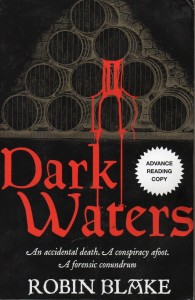 It is the Year of Our Lord 1741 in the small but bustling English town of Preston.  Attorney and coroner Titus Cragg is shocked but not surprised to find his drunkard uncle-in-law has fallen into the river and drowned.  The coroner's jury rules it an accidental death, and that seems to be an end of it.
But then a man falls dead under suspicious circumstances just before a hotly contested election is scheduled, and it just so happens that he shares strong political beliefs with the first to die.  Is there a political conspiracy afoot?  Mr. Cragg must unravel the riddle with the help of the young and scientifically inclined Dr. Luke Fidelis before there's no more room to store the bodies.
This is the second historical mystery featuring the team of Cragg & Fidelis; I have not read the first.    There are author's notes at the end concerning the politics and monetary system of the time, which enhance the value of the book. The characters are likable, and the plot moves well.
Trigger Warning:  period slut-shaming.
This is good of its kind, and I recommend it to historical mystery fans.
Note:  I have reviewed another book titled Dark Waters; there is no connection beyond the titles.