Manga Review:  Fullmetal Alchemist, Volume 10 by Hiromu Arakawa.
In the country of Amestris, the highest form of science known is alchemy, the ability to transmute substances into another form.  It seems limited only by the Law of Equivalent Exchange "to obtain an object, something of equal value must be lost."  Transmutation of humans is therefore forbidden.  But grief-stricken child prodigies Edward and Alphonse Elric decide to break this taboo when their mother dies prematurely.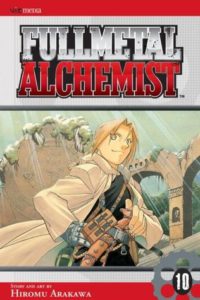 They do not get their mother back; Ed loses an arm and leg in the process, and Al's entire body is consumed.  Ed is able to preserve Al's consciousness by binding it to an empty set of armor.  They both gain the ability to perform transmutation without the cumbersome necessity of an alchemical circle, and Ed has his missing limbs replaced by automail, a form of cybernetic prostheses.
Edward Elric is determined to find a way to restore Alphonse's body, but to do this he'll need information on the Philosopher's Stone, an item that allegedly allows transmutation to be performed without equivalent exchange.  To do this, Ed joins the State Alchemist corps, becoming "a dog of the military" and codenamed "the Fullmetal Alchemist."  He soon finds himself and Al enmeshed in a government conspiracy, and about to learn even more hard truths about the nature of alchemy.
Fullmetal Alchemist was originally published as a monthly shounen (boys') serial in Monthly Shounen Gangan.  It did very well, spawning two anime series (one with a different ending than the manga, which was still being written at the time), video games and light novels.  Arakawa went on to write Silver Spoon, the anime of which I've previously reviewed.
In the volume I have at hand, Alphonse, the military team led by Roy Mustang ("the Flame Alchemist") and Ling, prince of Xing (essentially China) have temporarily teamed up with Barry the Chopper (serial killer who's also been bonded to a suit of armor) in an attempt to make the government conspiracy break cover.  They engage in battle with the homunculi Envy, Gluttony and Lust.  The battle between Roy Mustang and Lust is particularly heated.
Meanwhile, Edward and Major Armstrong head across the border into the wasteland  that was once Cselkcess before the unknown disaster that destroyed it overnight.  In the ruins of the capital city, they meet with an old friend who gives them information on the conspiracy.  Edward also meets a group of Ishbalan refugees, and learns the fate of the parents of his friend Winry Rockbell.
In addition, the Elric boys' father Van Hohenheim resurfaces after many years.  He had abandoned the family some time before his wife's death, and hadn't been heard from until now.  Ed is…less than pleased to see him.  The readers know, but Ed does not, that Hohenheim looks almost identical to the person codenamed "Father", creator of the homunculi.   That's pretty suspicious.
This is a pretty nifty series.  The monthly format allows more plot and character development per chapter, and Arakawa doesn't let that opportunity pass.  There are some heartwrenching moments, as well as exciting battles.  (Even in this volume, Roy finally manages to defeat Lust, but at a terrible cost.)  The art is distinctive and competent, if never spectacular.
Alchemy, which is basically magic, works by a set of rules which is easily understood, and seeming exceptions are carefully explained over the course of the series.
Less good is that some of the comedic bits get overused, particularly Edward Elric's oversensitivity about his height.  And while yes, the particular usage of the Seven Deadly Sins for the homunculi is nifty, that particular structure for a villain group is nearly a dead horse by now.  (And Lust is the only female in the group.  So shocking.)
I understand there are omnibus volumes out now, which will make collecting the series faster.  Also, because this series was very popular, the hipper libraries may stock it in their teen rooms.
Recommended for fans of shounen manga.
And now, the first opening for the Fullmetal Alchemist: Brotherhood anime: