Book Review: The Black Bat #1: Brand of the Black Bat & Murder Calls the Black Bat by Norman Daniels (writing as G. Wayman Jones)
Tony Quinn was a handsome, wealthy and highly competent district attorney until the day of Oliver Snate's trial.  This time he had proof of the gangster's illegal activities, actual recordings of Snate openly talking about his crimes.  But Snate had a plan to destroy the evidence.  Out-of-town criminals infiltrated the courtroom, and when the recordings were brought out of their protective cover, the thugs caused a riot.  One of them hurled a bottle of vitriol on the recordings, incidentally also hitting D.A. Quinn, who had moved to protect the evidence.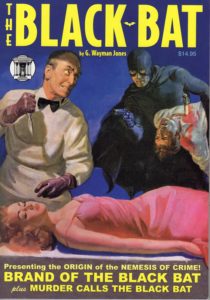 The acid hit Tony's face, horribly scarring him, and more importantly, rendering him blind!  With the key evidence destroyed and a less effective prosecutor filling in, Snate's slick lawyer was able to get the case dismissed.  Without his sight, Mr. Quinn thought his career was over, and the medical experts told him there was nothing they could do.  Tony became a hermit, aided only by his manservant "Silk" Kirby, a former conman who'd reformed to help Tony against an earlier assassination attempt.
Then a mysterious woman arrived, who told Tony that if he secretly went to a certain town in Illinois, there was one doctor that could cure his blindness.  After a period of recovery, not only could Tony Quinn see again, but he now possessed the ability to see in the dark!  Remembering how Snate had mocked him as "blind as a bat", Tony decided to conceal his new abilities, and operate as the mysterious vigilante, the Black Bat.
In one of those interesting coincidences comic book history is littered with, the Black Bat first appeared in Black Book Detective about the same month that Batman first appeared in Detective Comics.  And it very much was a coincidence–the pulp character was called "the Tiger" in the original draft, from the striped facial scars.  But the publisher of Black Book Detective wanted him to be the lead character in that magazine, so he was rewritten into a darker mode, drawing on much the same cultural influences that Bob Kane and Bill Finger used to create Batman.
The two very similar characters brought about mutual threats of lawsuit–but the companies settled on an agreement that Batman would appear in comics only, while the Black Bat would stick to prose.  We'll get back to that later.
Back in the story, Oliver Snate has graduated to making armored cars vanish on a regular basis.  He's smart, but not that smart, so the Black Bat suspects a criminal mastermind at work.  The Black Bat begins his plan by interfering with a bank robbery.  A ex-boxer named Jack "Butch" O'Leary and the mystery girl, Carol Baldwin, get caught up in this and join the Black Bat's team.  The Black Bat also makes an enemy of Detective Sergeant McGrath, an honest policeman who wants to arrest the vigilante for breaking the law.  McGrath catches on to the connection between the Black Bat and Tony Quinn quickly, but is never able to prove they're the same person.  (Police Commissioner Warner also suspects, but is much less motivated to catch the Bat.)
It turns out that Carol's father was a police officer who'd been blinded by Oliver Snate in a different way some years before.  Dying, he convinced Dr. Harrington, a brilliant surgeon living in obscurity for reasons never discussed, to transplant his intact corneas and other vital bits into Tony Quinn's eyes.  (Dr. Harrington is declared dead offstage at the beginning of the second story, so we never follow up on him.)  Carol and Tony are strongly affectionate towards each other, though they both know romance is out of the question.
Now that all the pieces are in place, it's time to run Snate to earth, and expose the true villain behind him.
Our heroes are pretty cold-blooded about killing; Tony and Silk don't hesitate to shoot criminals even before they become vigilantes, and the team racks up quite a body count by the end.  Perhaps the most brutal moment is when the Black Bat straight up murders a parked getaway driver so that bank robbers will be forced to use a car he's gimmicked to record their voices.
The Black Bat's double life is a recurring problem; he must often cut investigations short and hurry home so that poor, blind Tony Quinn can be seen to still be blind and most certainly not running around in a hood and cape.
Carol's backstory has her be an effective solo operator until she joins the team, at which point she never takes initiative any more, just doing whatever the Black Bat assigns.  Yes, she does get into peril a lot and need to be saved, but Silk and Butch are about equally peril-prone.
In the second story, several elite jewelry emporiums discover that large portions of their stock have turned counterfeit, seemingly overnight.  One owner is apparently driven to suicide, while another consults Tony Quinn (who used to be his lawyer before being elected district attorney) before apparently driving off a cliff in an exploding automobile.  When a hitman shows up to kill Tony, he realizes that the crooks behind this bizarre series of events must think he knows more about what's going on than he really does.  Time to become the Black Bat!
Freed of having to do a lot of set-up, this story is more of an action-mystery with plenty of suspects.  There's a nasty torture scene, though the cover switches Silk with Carol for the equivalent peril.   The bad guys' major weak point turns out to be that the field leader of the thieves is obviously planning to betray his boss just as soon as he has the loot.  There's some ethnic stereotyping.
One neat bit that comes up is that Tony's scars make the Black Bat not be a master of disguise.  He can disguise himself a bit, but he's no man of a thousand faces, leaving that to the clever Silk.
Now, remember that deal I mentioned a few paragraphs ago?  Eventually, the publisher of Black Bat wanted to adapt some of the magazine stories to comic book form.  But they couldn't use the name "Black Bat," so he was changed to the Owl.  Oops, by the time the art was finished, someone had started publishing another superhero named "the Owl."  So the script was quickly changed by Raymond Thayer to call the main character "the Mask."  "The Mask Strikes" from Exciting Comics #1 is the first half of "Brand of the Black Bat" with a few names changed, and the hero wearing a noticeably bird-themed hood.  Very compact art that gets a lot done in a few pages.
The Black Bat's origin went on to inspire comic book characters Dr. Mid-Nite and Two-Face.  Batman-related character Cassandra Cain took up the name Black Bat for a few issues before a reboot made her vanish (the latest version of her is now called "Orphan"), and the Tony Quinn Black Bat finally got to appear in comics in a series from Dynamite.
Recommended for pulp fans, and fans of two-fisted vigilantes who don't pull punches when dealing with criminals.