Book Review: Great Historical Coincidences by Pere Romanillos
"Serendipity" is the good fortune that comes when you discover something useful or interesting while you were looking for something else.  Knowing how to grasp the opportunity offered by serendipity is one of those skills that every scientist and artist should have at their disposal.  This book, originally published as ¡Menuda chiripa! Las serendipias más famosas covers many instances of serendipity, mostly in the area of science.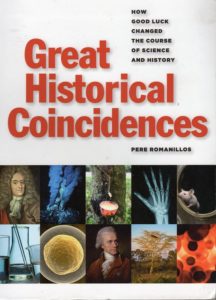 After a lengthy introduction on the subject of serendipity and fortunate coincidences, there are 49 essays on individual discoveries divided by scientific field.  We begin with physics and Archimedes' Principle (and the origin of "Eureka!") and end with archaeology and the terracotta soldiers of Qin.  Many of the stories were familiar to me, such as the melting chocolate bar that revealed the existence of microwaves; while others were new to me, such as the origin of the Pap smear.
This book is heavily illustrated and the translation by Janet Foster uses language that should make this book suitable for bright junior high students on up.  (Some parents may find discussion of the biology of sex unsuitable for their kids.)  There's some clumsy phrasing from time to time.  There's no index or citations, but there is a bibliography to search for more information–much of it in Spanish.
This is one of those books primarily meant as a present; the treatment of each discovery is short and only covers highlights and often context is missing.  Consider it for a budding scientist or history buff, perhaps as a pair with the same author's Great Historical Blunders.