Book Review: Nine Lessons by Nicola Upson
A churchyard in a village not too far from Cambridge in England has one too many bodies in its graves.  The victim, a respected organist, was entombed alive, and odd details about the scene make it clear that this was murder most foul.  Detective Chief Inspector Archie Penrose is called in from Scotland Yard to investigate.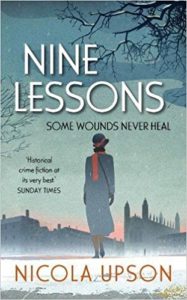 One of the clues brings DCI Penrose to Cambridge itself, where the victim was a student at King's College before World War One.  As it happens, Penrose's good friend, mystery writer Josephine Tey is in town, house-sitting for her very good friend Marta.  The days are turning chill as Armistice Day approaches, but there's something else that is bringing fear to the university town–a series of sexual assaults on young women.
This is the seventh in a series of mystery books starring a fictionalized version of author Josephine Tey.  For starters, in the books this is her actual name, rather than being a nom de plume  for Elizabeth MacKintosh (1896-1952).  The real author is perhaps best remembered for her 1951 novel, The Daughter of Time, in which a hospitalized police detective amuses himself by investigating the supposed murder by Richard III of his nephews.  But this story is set in approximately 1937, as it's mentioned that Alfred Hitchcock is loosely adapting one of Tey's books into a movie.
But Mr. Hitchcock is only mentioned; the primary literary influence here is M.R. James, once Dean of King's College, and famous for his chilling ghost stories.  The murderer seems to be taking inspiration from those stories, and all the victims were once in the King's College Choir (which sings the Nine Lessons and Carols from whence the title derives.)
The subtitle on the cover is "some wounds never heal"; Inspector Penrose and some of the other characters are still carrying the scars from the War, while others are dealing with more personal wounds.  Another theme of the book is kindness, given, withheld, found in unusual places and the devastating effects if kindness is taken away.
An important subplot is the romantic relationship between Inspector Penrose and his current (and former) lover Bridget.  She's been keeping a large secret from him that Marta (and thus Josephine) have learned about.  Keeping this secret is a betrayal, but it's not theirs to tell.
There's a lot of glowing description of Cambridge's architecture.  I've only been there one day many years ago, so cannot speak to the accuracy of the descriptions, but the author lives there so presumably knows what she's talking about.  The author deliberately moved some 1970s events into the 1930s to fit them into this novel.
The murder mystery part of the book wraps up several chapters before the end, allowing the other plotlines to take the foreground.  The ending is bittersweet at best; criminals have been found and taken off the streets, but the wounds they caused remain.  (Content warning: rape, suicide.)
Some bits made me cry, but then I'm the sentimental sort.  Recommended to fans of historical mysteries.
Disclaimer: I received a copy of this book through Goodreads Giveaways for the purpose of writing this review.  No other compensation was requested or offered.
Here's a video of the King's College Choir and the Nine Lessons: