Manga Review: Weekly Shonen Jump (2017) by various
This is my blog's fifth anniversary!  And thus this is my sixth annual review of the state of Weekly Shonen Jump, the online version of the popular manga anthology Weekly Shounen Jump.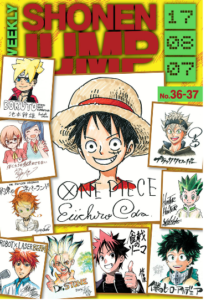 The online edition, being aimed at the North American audience, is substantially different from the Japanese newstand edition.  Several of the Japanese serials are not considered suitable for translation, and instead monthly serials from other magazines are brought in to fill pages.
Let's take a look at what's currently running.
Weekly
"One Piece" by Eiichiro Oda: The epic series about stretchable pirate Luffy D. Monkey and his wacky crew on a world that's mostly ocean continues to be the tentpole for Shonen Jump.  The current story centers around cook and ladies' man Sanji, who was kidnapped by his abusive birth family to be married into the Big Mom pirate clan.  The arc appears to be winding down as the wedding went about as well as one written by George R.R. Martin, and now the Straw Hats crew and their temporary allies are attempting to escape Big Mom's territory.  That will depend on whether Sanji and his would-be bride Pudding can create the perfect substitute wedding cake in time!  Cast bloat continues to make this series move at a snail's pace, but oh! what characters.
"My Hero Academia" by Kohei Horikoshi: Deku, formerly one of the Quirkless minority on a world where 80% of people have superpowers, has been gifted with One For All, a rare transferable quirk that will someday make him the world's greatest superhero, if it doesn't kill him first.  That's why he's enrolled in the superhero training school Yuuei High, along with a number of other niftily powered teens.  This series has just finished an arc in which Deku aided in rescuing a little girl from an attempt to make the Yakuza big time again by wiping out superheroes.  The baddies' plans were smashed, but not without cost.  This continues to be one of the best battle manga around, with plenty of neat characters and fun battles.  Plus it's nice to see optimistic treatment of superheroes.  The last arc did, however, kind of shortchange the female heroes.
"Dr. Stone" by Riichro Inagaki & Boichi: For reasons yet unknown, humanity was petrified nearly four thousand years ago.  A handful of people have been unpetrified, most prominently Senkuu, a high school science prodigy.  He now strives to bring the wonders of scientific knowledge and technology back to this world of stone.  This series is new for 2017, and is notable for its emphasis on smarts and facts as a way to get ahead.  (The first few chapters made it look like Senkuu's strong but not very bright friend Taiju was the protagonist, but he's since been moved offstage.)  For the last umpteen chapters, Senkuu has been trying to gain access to a primitive village whose priestess may have information he needs–if he can cure her of her mysterious illness.  His rapid introduction of useful things like glass and magnetism helped, but since this is a shonen manga, it all came down to a fighting tournament.
"Black Clover" by Yuuki Tabata: In a world where everyone can use magic, Asta was the only person who seemed to have no mana or talent.  That is, of course, until his power turned out to be summoning anti-magic swords!  Asta has joined the Magic Knights misfits squad known as the Black Bulls, and dreams of becoming the Wizard King!  After several attacks by a terrorist group known as the Eye of the Midnight Sun, a strike force has been cobbled together of the most effective Magic Knights (plus Asta) to attack what appears to be the Eye's headquarters.  This series is kind of generic, and average in quality, but does the battle manga thing well enough to keep people reading.
"Food Wars: Shokugeki no Souma" by Yuuto Tsukada & Shun Saeki: Souma Yukihira is a cocky young chef being trained at the prestigious Totsuki Culinary Institute, a cooking-obsessed high school with a 1% graduation rate.  He must battle to prove his skills are worthy of being a top chef.  Currently, we are finally approaching the finals of the team shokugeki (cooking battle) between the Elite Ten under the evil Director Azami and the rebels led by Souma.  With both sides whittled down, we may next year finally see Erina in action, as her cooking ability has been hyped since Chapter Two without ever being seen in the present tense.  The ecchi elements have been toned down since the early chapters, but we still do see naked women (and men) from time to time.
"Robot X Laserbeam" by Tadatoshi Fujimaki: Also new for 2017!  A stoic boy, Robato Hatohara, nicknamed "Robo" for his apparent lack of emotion, discovers that he has a special gift for golf, and then that it is the one thing that truly excites him.  By the creator of the hit series "Kuroko's Basketball", this series tries to do the same thing with professional golf.   Amazingly, after Robo is introduced to the love of the sport, the manga skips the entirety of his high school career, and we're now reading Robo's professional debut match against a South African giant.  I find most of the characters, except lovable goof Dorian Green (the afore-mentioned giant) bland and uninteresting, but the creator has a good reputation.
"We Never Learn" by Taishi Tsuitsui: Also new for 2017!  Nariyuki Yuiga comes from an impoverished family and despite not being above average intelligence, uses hard studying and learning techniques to get excellent grades, just below math genius Rizu Ogata and humanities expert Furuhashi Fumino.  If he could get the special VIP Scholarship recommendation from his school, Nariyuki might be able to get into a first-class college, make it into a decent job and move his family up to middle class.  The principal dangles this prospect in front of the young fellow, but first he must successfully tutor Rizu and Furuhashi, as they want to get into colleges that specialize in majors the opposite of their strong suits!  As the teens begin to learn how to deal with their studies, they also begin developing feelings for each other.  This "harem" romantic comedy has since added a third girl for Nariyuki to tutor, athlete Uruka Takemoto, as well as a couple of other young women that probably aren't really in the love market but provide other fanservice.  I find this series a bit cringey, especially as it's moved away from the study skills premise, and I would like to see more male friends for Nariyuki.  The fanservice art is nice.
"The Promised Neverland" by Shirai Kaiu & Demizu Posuka: Children raised in a happy orphanage discover that instead of being adopted by loving families, they're actually being raised to be eaten by demons.  The children have finally escaped from the orphanage, only to discover that the person they were hoping to meet to take them to safety hasn't been at the rendezvous point in years.  Emma and Ray are currently proceeding to the next rendezvous point with a nameless older survivor, but Emma abruptly finds herself in a demon noble's canned hunt.  This series continues to be excellent.
Monthly
"Blue Exorcist" by Katou Kozue: Rin Okumura may be the son of Satan, but he defies his demonic heritage to join a school for demon-hunting exorcists.  Currently, Mephisto has been badly wounded, weakening the barriers between Earth and Gehenna.  More personally, Rin's brother Yukio appears to be going over to the dark side, may be the one who shot Mephisto, and is invited to join the Illuminati.  This time we may be looking at a permanent threat escalation.
"Seraph of the End" by Takaya Kagami, Daisuke Furuya & Yamato Yamamoto: After a plague wipes out most of humanity, the remainder are either enslaved by vampires, or ruled by armies that use demons as weapons.  Yuichiro escapes the vampires and joins the Japanese Imperial Demon Army to avenge his fallen friends, but discovers over time that the JIDA might not be the good guys either.  Currently, Yuichiro has reunited with his old friend Mikaela, who has become a (weak) vampire himself, and they have allied with the remains of Yuichiro's squad and some rebel vampires against the true threat…God?  Seriously?
"One Punch Man" by ONE & Yusuke Murata: Saitama was once an unemployed loser who dreamed of becoming a hero that could defeat any opponent with one punch.  After some training, he became exactly that, but learned to his sorrow that ultimate power is ultimately boring.  This superhero parody is considerably deeper than you might have guessed.  Currently, it's in a long arc where the Hero Association faces two threats: the Monster Association that is its opposite number, and Garou, a man who hates stories where heroes always win.
"Boruto: Naruto Next Generations" by Ukyo Kodachi & Mikio Ikemoto: A sequel to the enormously popular Naruto manga, this one features his son Boruto and other second generation ninja in a world that has been at peace for a while.  Currently, Boruto and his team have been diverted from their ninja gadget testing mission to check up on some missing scouts.  They've been told not to engage any enemies, but this is after all a shounen manga.  This series has been surprisingly good for a cash-in sequel.
"Yu-Gi-Oh! Arc V" by Shin Yoshida, Masahiro Hikokubo & Naohito Moyashi: Yuya Sakaki is a Duel Monsters (children's card game) player with multiple personalities (that at some point were actual people) who's come back from the future in search of the GOD card that will end the world unless properly contained.  I think.  This series is a confusing mess.
"Hunter X Hunter" is back on hiatus due to creator bad health, and it looks like the "Ruroni Kenshin: Hokkaido Arc" has been suspended indefinitely as the creator has been arrested for possession of child pornography.  (Ow.)
Despite some relative duds, Weekly Shonen Jump online still remains one of the best bargains in manga, with several excellent series.