Book Review: The Mida by Lyle Ernst & Kimberly Sigafus
Tony was little when his parents died and left him in the care of his grandmother Nola.  She tried the best she could to raise him in the tiny community of Farmingdale, Iowa, but it's 1952 now and he's a grown man.  Tony's made some bad life choices which are about to come back and bite him, as he's accused of murdering his ex-girlfriend.  As if that wasn't stressful enough, it turns out his mother isn't dead after all, and she and the carnival she manages just appeared in town.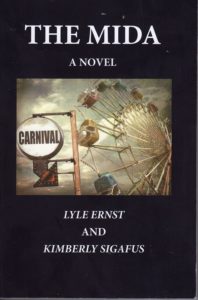 The Mida, as it happens, is no ordinary carnival.  For one thing, it's a "Sunday school", which means no rigged games or other cheats.  More relevantly to the plot of this story, the carnival is mystic in nature, traveling through time and place to where it needs to be.  A number of the carnies have special abilities ranging from eidetic memory to being "a Wiccan goddess" granted by their employment.  Mesa, the manager, knows that the Mida has arrived in 1952 Iowa for Tony, but is reluctant to face the son  she abandoned all those years ago.  Especially as the carnival is being stalked by the dark spirit Jiibay, who has finally caught up to them.
This is the first of three (so far) fantasy books about the Mida.  Ojibwa lore is woven into the narrative, but is not the main thing going on.  For most of the book, the non-supernatural murders are the focus plotline.  It's not much of a mystery for the reader as the story has multiple viewpoint characters, including the murderer.
Good stuff: a fairly diverse cast, not all of whom are the stereotypes they first appear to be from one viewpoint.  A fairly sensible and intelligent sheriff, who gets to be useful even though this is a fantasy book.
Not so good:  Little to nothing is done with the time travel aspect of the plot.  Most of the carnies probably wouldn't take advantage of future knowledge for profit because of their personal morality or lack of solid opportunities, but there's no mention by anyone of changes in technology or customs.  Conveniently, Mesa has aged enough in her travels so that no one doubts she's the right age to be Tony's mother.  Other than some mention of contemporary baseball players, there's almost nothing that makes the setting feel like the early 1950s as opposed to any post World War Two but pre-21st Century rural town.
There are eight main carnies who form a "circle" although this is apparently the first most of them have known that; all get at least a little development.  But then there are thirteen Gatekeepers who also work at the carnival and that the Eight aren't supposed to know about as they are the guardians of the Eight.  Most of them don't even get named, let alone individual attention.  And presumably there are even more carnies that aren't in either of those groups.  With all these people and the townsfolk, the book is jam-packed and some characters just get lost in the shuffle.
There's some brief transphobia, but oddly enough no anti-Native American prejudice is ever brought up.  Abuse is in some characters' backstory, and some of the carnies have been criminals in the past.
This is very obviously a first novel and self-published (a few spellchecker typos); later books in the series may show improvement.
Recommended to people who like weird carnival-set stories.