Comic Book Review: Daring New Adventures of Supergirl Volume 1  written by Paul Kupperberg, pencils by Carmen Infantino, inks by Bob Oksner
In the late 1950s, DC Comics decided to protect its "super" trademark by creating a character named Supergirl.   ("Superwoman" had been used in individual stories as Lois Lane's codename when she temporarily gained superpowers.)  There was a test-run story in which Jimmy Olsen wished a "Super-Girl" into existence to help Superman, and that story was well received by the readers.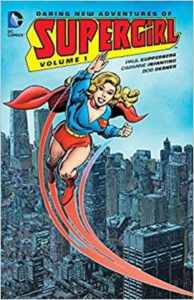 So it was that in 1959, Superman investigates a crashed rocketship to discover a girl in her teens, who possesses all the same powers he does!  She explained that she was his cousin Kara.   It turns out that Kal-El's father Jor-El had a previously unmentioned brother named Zor-El who was married to a woman named Alura.  Faced with the destruction of Krypton, instead of building a rocket to escape as Jor-El had, Zor-El had put a protective dome over his home of Argo City.
The dome held, and Argo City was blasted off Krypton in one piece with many survivors.  Unfortunately, the chain reaction that destroyed Krypton also turned the bedrock under the city to deadly Kryptonite.  Lead sheeting was laid down, and the citizens carried on with their lives.  Kara was born some years later.
A meteor shower damaged the dome and the lead sheeting irreparably, and Kryptonite poisoning swiftly began killing the people of Argo City.  Knowing that Kal-El had survived and become Superman on Earth, Zor-El constructed a spaceship from the few remaining uncontaminated materials, and sent Kara to join her cousin.
Superman wasn't ready to be raising a teenager full-time,  plus he thinks having Clark Kent's cousin around on a regular basis might compromise his secret identity's lifestyle.  So Superman has Kara placed in an orphanage under the name Linda Lee, and tells her to lay low–for now Supergirl will be his secret weapon.
Showing considerable faith in the character concept, Supergirl was given her own solo stories as well as guest appearances in her cousin's comics.  She joined the Legion of Super-Heroes, was adopted in her secret identity and became Linda Danvers, and eventually revealed to the general public.
Supergirl bounced around the DC Universe for years, doing guest appearances, being a back-up feature and eventually having her own series, that was then folded into Super-Team Family.   In 1982, it was decided to put her back into a solo comic, which brings us to the present volume, reprinting issues 1-12 of Daring New Adventures of Supergirl.
As the story opens, Linda Danvers is on a cross-country train from New York (her job there as a soap opera actress is never mentioned) to Chicago, where she has enrolled in Lake Shore University as a freshman.  (This is her third time as a college freshman; her previous schools are also never mentioned.)
Linda meets her new best friend Joan Raymond, who works in the registration office and happens to know of an empty apartment in her building.  Also introduced are new landlady Mrs. Berkowitz (a Holocaust survivor) and handsome but dim neighbor John Ostrander, an aspiring actor.  (No relation to real person comic book writer John Ostrander, who wouldn't start working in the field until the next year, and not at DC until 1986.)
Another student at the college is Gayle Marsh, a troubled young woman with psychic abilities.  This would be difficult enough, but she's fallen under the influence of a Mr. Pendergast, who is obsessed with removing "decay" from society.  He browbeats Gayle into mindlinking with him so that their combined intellect becomes a supervillain named Psi.
Psi starts destroying Chicago, and battles Supergirl.  Supergirl makes some good points about the nature of Psi's actions, and Gayle turns on Mr. Pendergast, transforming him into a misshapen monster that calls itself Decay for its ability to absorb life force and accelerate decay.  Decay rampages until Psi recovers and turns him back into a human, vanishing in the process.
Meanwhile, John Ostrander is given a courier job by a shady businessman, which leads into the next plotline.  A group of people with special abilities calling itself the Gang has just stolen a prototype satellite.  Supergirl interfered, but was stymied by Ms. Mesmer, who has hypnotic talent.   The Gang discovers that their payment was in the hands of Johnny, who failed to deliver as he learned of an audition, and lost the package there.
The Gang abducts Johnny, and this allows Supergirl to track them down, despite the fact that she's been given a post-hypnotic suggestion that makes her think she's flying around in her Linda Danvers identity.  (Kara's identity issues would keep cropping up in this series.)
A nice touch is that the Gang grew up together in the slums of Chicago, and truly care for each other to an extent.  One member, Brains, manages to escape and becomes a recurring problem.
The secret organization that had hired the Gang, the Council, next sends out a robot called Matrix-Prime to do their bidding.  It's called that because Matrix-Prime can create new, smaller robots and weapons from inside itself to adapt to different situations.
Supergirl manages to smash the Council's underwater base in Lake Michigan, but the trail goes cold there.
Taking a break at a park concert, Linda suddenly hears a weird noise just before a woman in bandages is attacked from above.  This woman turns out to be Valentina Vostok, the Negative Woman of the New Doom Patrol.
This iteration of the superhero group known for being freaks and misfits is after Reactron, a former military man who was exposed to atomic testing, then exposed to Tempest's kinetic blasts in Vietnam.  As a result, Reactron can absorb, create and control various forms of radioactivity, including, as it turns out, at least one that can harm Kryptonians.
Supergirl manages to get Reactron out of Earth's atmosphere, but ill with radiation poisoning, she makes an enemy of a Chicago police detective.  More worrying, she is captured by the Council and subjected to a mad science process that creates six tiny duplicates of her.
Even though weakened, Kara's Kryptonian physiology prevents her from fully dying from the duplication process.  The Council sends the duplicates after her, and the seven beings have a battle royale inside the Fortress of Solitude.  The duplicates accidentally cure Supergirl of the radiation poisoning and she then defeats them.
But by the time Supergirl returns to the Council hideout, the mad scientist is dead ("you have failed me") and the trail is cold again.  Her costume is in tatters, which will trigger a change of outfit in the next issue.
This is considered one of the best runs for the character, thanks to being more philosophically nuanced than most while not losing that essential fun aspect of superhero comics.  It was also the last run  for this particular version of the character, as Kara Zor-El was killed off in Crisis on Infinite Earths.
The supporting cast is well-used, and the stories flow organically into each other.
Carmine Infantino used his years of depicting the Flash to give Supergirl an impression of speed in her actions.  Linda's civilian clothes are remarkably frilly, but suit her personality, and give the impression of being selected from a relatively limited wardrobe that would fit into a few suitcases.
Psi's costume leaves a lot to be desired and raises some questions about Mr. Pendergast's intentions towards his protege.  Decay may have been closer to the surface of his personality than he'd like to admit.  There's also some peekaboo nudity with the miniature Supergirl duplicates before they are somehow clothed in identical costumes to their template.
This would be a good choice as a gift for young Supergirl fans who have only seen the TV show, and for the nostalgic Supergirl fan who was around in the early 1980s.