Manga Review: Skip-Beat! Volumes 4-5-6 by Yoshiki Nakamura
Quick recap:  Kyoko Mogami dropped out of school and moved to Tokyo to support her beloved Sho as he tried to break into show business.  A couple of years later, the now rising star let slip that he has never liked Kyoko back, just using her as a free servant.   Enraged, Kyoko has vowed to get revenge by defeating Sho at the one thing he truly cares about, public popularity.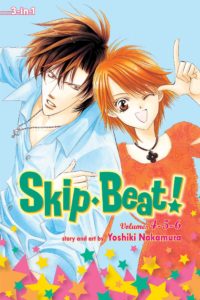 Despite no training in the field or immediately obvious talent, Kyoko managed to get a internship at the LME talent agency, because she amused eccentric president Lory.   Kyoko and another young woman with difficulties due to attitude, Moko, have been assigned to the "Love Me" section where they do humiliating chores in an effort to get noticed.
At the beginning of this combined volume, Kyoko manages to pass an audition to acting school by flipping a schmaltzy script to let her acid tongue shine.  She doesn't get the full scholarship, though, because Lory's granddaughter Maria (whose home situation mirrored the script) interfered.  Maria and Kyoko bond, and Lory begins to get an idea of how bad Kyoko's mother was.
Next up, a series of coincidences wind up placing Kyoko in a chicken suit on a TV variety show just as that show has Sho as the main guest.  When Kyoko hears Sho telling fibs to make himself sound more cool, she decides to use her anonymity to get revenge by making the heartbreaker look bad.  It doesn't quite work out the way she planned, but does allow her to see a different side of her coworker Ren.
We also learn that Ren has deeper connections to Kyoko than she's aware of, but keeping them a secret because of his work ethic.
The following story has Kyoko and Moko  trying out for a soft drink commercial, and we're introduced to Moko's self-appointed arch-nemesis Erika Koenji.  A spoiled rich girl, Erika has never forgiven Moko (real name Kanae, by the way) for getting the lead in a third-grade play over her, and has used her wealth and connections ever since to quash Moko's acting aspirations.   This is at least partially responsible for Moko's attitude problem and unwillingness to be friends with other girls.
Learning bits of this makes Kyoko, who has never had a female friend either, feel a connection to Moko, and their unique acting styles (plus some dumb luck) gets them the commercial spot.
The next big storyline has a cold going around the office, knocking out Ren's manager, and since all the regular replacements are also sick, this leaves Kyoko with the job (while she's also studying for a high school entrance exam–she really wants to complete her education.)  Kyoko isn't very good at a talent manager's main job duties, but her skillset comes in handy when Ren falls ill as well and needs a nurse.  Ship tease!
While Kyoko's negative personality traits are still present, this collected volume allows her to show the positive ones as well.  The appearances of her (literal) "inner demons" are less frequent.   We also get some nice development for a few of the supporting characters, and hints of deeper backstory.  I like the balance of comedy and dramatic elements, and the romantic hints aren't overwhelming the story.
The character art is good, but backgrounds are often sketchy or outright absent.
Kyoko's absentee mother comes across as a real piece of work; parents of younger readers may want to discuss unreasonable expectations with their children.  Aside from that, this book is suitable for junior high kids (especially girls) on up.
Recommended to shoujo readers who like a little tartness in their heroines.