Manga Review: Case Closed (Detective Conan) Vol. 63/64 by Gosho Aoyama
Quick recap:  When teen genius detective Shinichi Kudou (Jimmy Kudo in the American version) is shrunk to a childlike form in a botched assassination attempt, he takes the name Conan Edogawa and is taken in by bumbling private eye Kogoro Mouri (Richard Moore) and his daughter Ran (Rachel), who happens to be Shinichi's sweetheart.  Conan must hide from the international crime organization that changed him, but also finds himself having to solve crimes, despite the fact that first-graders aren't supposed to be that great at detection.  See my reviews of earlier volumes for more details.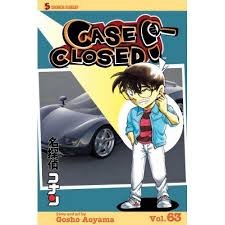 In the previous volume, Shinichi had taken an experimental antidote that allows him to assume his normal appearance for a few hours–only to spend most of that time separated from his friends.  As Volume 63 opens, he finally has an hour or two to spend with Ran as himself…or he would, except that they've stumbled across a man strangled to death while alone in a moving automobile!  Can Shinichi solve the crime before he shrinks again?
Then Professor Agasa takes the Detective Boys out for sushi on a revolving conveyor belt, only to have an obnoxious food critic be poisoned right by them.
This is followed by a story that the Americanized names makes not make much sense.  Genta Kojima's (George Kaminski in the dub) father is enrolled in a special televised tournament only for people who write "Kojima" with a specific set of kanji (ideograms).  In the English version, it's a contest for people who spell the name "Kaminski" that way.  Conan must figure out which of the contestants murdered the organizer of the tournament and why.  He'll just hope it's not Genta's never before seen father!
The last story in the volume is the hunt for the "Silver Witch", a legendary drift racer.  She seems to be back from wherever she disappeared to a few years ago, and luring mountain racers into auto accidents in the fog.  Has a big twist at the end!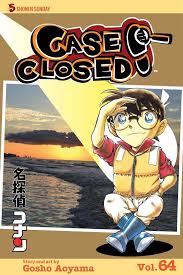 Volume 64 opens with the Detective Boys visiting Horn Rock, an isolated islet shunned by fisherfolk due to bad luck (unless you have a child on board.)  They find a scuba diver there, dead of starvation, and a curious inscription she wrote.  The complication this time is that they are accompanied not by Professor Agasa, but grad student Subaru Okiya, who is not in on Conan's secret, and on whom Ai (Anita) sometimes detects the scent of the Black Organization.  Is he an enemy, or is there something else going on?  This is another case that you need to know kanji to solve.
After that, Kogoro Mouri is called in to help a blind heiress discover which of two scarred men is the boy who saved her life as a child.  Making matters more urgent, the police believe the one who's an impostor may in fact be the Whistling Killer one of the cops managed to scar years before.
Once the mystery of the scarred boy is solved, the story flows into the Whistling Killer case proper.  The killer did several murders years ago, but seemingly comes out of retirement to kill a man who taunted him on television.  Why now, and what is the significance of the song "Let It Be"?
The final chapter is the setup for a Kaito Kid story.  The flashy thief has again challenged Sonoko's (Serena) wealthy uncle by claiming he will steal something from a supposedly theft-proof safe.  Or has he?  The challenge letter looks wrong, and Conan smells a rat.   Just who is the real villain here?  Wait for Volume 64 to find out!
Of these stories, I liked the Whistling Man tale the best as it's good and atmospheric.    The two cases that rely on ideograms for clues suffer badly from the erasure of Japanese language for the American version.   There's no movement on the myth arc, other than the suspicious behavior of Subaru Okiya.
Recommended if you are a fan of the series; more casual fans may want to wait for the next volume that has actual plot developments.