Book Review: The Year's Best Dark Fantasy & Horror 2014 edited by Paula Guran
Even the fastest, most dedicated readers can't read everything that's published each year.  Not even in relatively limited genres like fantasy or horror.  That's where "Year's Best" collections come in handy.  Someone or several someones has gone through the enormous pile of short literature produced in the previous year, and winnowed it down to a manageable size of good stories for you.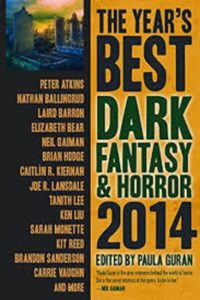 Admittedly, these collections also come down to a matter of personal taste.  In this case, Ms. Guran has chosen not to pick just straight up horror stories (which do not necessarily include fantastic elements) but fantasy stories with "dark" elements.   She mentions in the introduction that at least some good stories were excluded because they weren't brought to her attention–small internet publishers might not even know such a collection exists to submit to.
This thick volume contains thirty-two stories, beginning with "Wheatfield with Crows" by Steve Rasnic Tem.  Years ago, a man's sister vanished in a wheatfield.  Now, he and his mother have returned to the site as darkness falls.  Will history repeat?
The final story is "Iseul's Lexicon" by Yoon Ha Lee.   A spy discovers that the army occupying half her country is being aided by not-quite-human wizards everyone thought were wiped out centuries before.   They are compiling a lexicon of every human language for nefarious purposes, and it is up to Iseul to find a way to stop them.  In the end, she learns that there are innocent casualties in war no matter how  targeted the weapon.
Some stories I particularly liked:
"The Legend of Troop 13" by Kit Reed, about Girl Scouts gone feral, and the foolish men who think to possess them.  This one has a logical stinger in its tail, and very dark humor.
"Phosphorous" by Veronica  Schanoes is about the women who made phosphorous matches, and their fight for better working conditions.  The viewpoint character is a woman dying of "phossy jaw" caused by the poison she's been exposed to.   She is determined to see the strike through, and her grandmother knows a way–but the cost is high indeed.
"Shadows for Silence in the Forests of Hell" by Brandon Sanderson concerns a bounty hunter who must track her prey in the forest that has Three Simple Rules.  Don't start fires, don't shed blood…and don't run at night.   So simple.  But there are other bounty hunters in the forest tonight, and treachery.  Some rules will be broken, and the shades will descend.
One story I didn't care much for was "The Prayer of Ninety Cats" by Caitlin R. Kiernan, which is a description of a horror movie based on the legend of Elizabeth Bathory, the Blood Countess.  There are some good scenes, but the presentation muffles the effect, taking me out of the story.  There's also use of "Gypsy" stereotypes within the film.
Most of the other stories are good to decent, and there are big names like Tanith Lee and Neil Gaiman represented.  If this is the sort of genre fiction you like, it would be worthwhile to check the book out at your library–and then buy it if enough of the stories please you.