Audio Review: The Adventures of Luke Skywalker
Most Star Wars fans are aware that director George Lucas based much of the look and feel of the first movie on classic Hollywood films and especially the thrilling chapter serials.  But have you ever considered what A New Hope would sound like if it were a big-budget film made in Hollywood's Golden Age?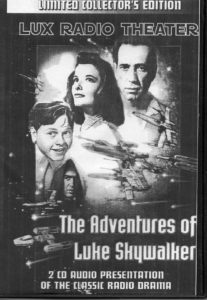 Someone certainly did, and put together a version that might have appeared on old time radio as part of Lux Radio Theater.  LRT was a weekly broadcast hosted by famed movie director Cecil B. DeMille that adapted recent movies for the radio, often with the actual stars of the movie reprising their roles.  You should be able to find episodes downloadable or streaming at various sites on the internet.
For this performance, there is a star-studded cast (provided by voice impersonators):  Mickey Rooney as Luke, Humphrey Bogart as Han Solo, Katherine Hepburn as Princess Leia, Bela Lugosi as Darth Vader, and so on.  (Rin Tin Tin as Chewbacca!)  It was recorded live; there's some obvious microphone feedback towards the beginning and some of the cues are a teensy off.  Much of the story is carried by the narrator, who fills in what we're supposed to be seeing.  (Saves on special effects!)
The story follows the familiar film, plus or minus a scene or two.  The dialogue has been altered at a few points to allow in-jokes for the "actors.'  (Bela doing the Dracula "bleh!" for example.)   Some of the impersonations are better than others; in fairness, some voices are easier to imitate.  As a purist when it comes to historical fiction, I was jarred by a couple of words being used that hadn't been coined by the 1940s, even in science fiction.
It's a lot of fun, and recommended to both Star Wars and old time radio fans.  On the down side, this recording had a limited number of copies made, and is now out of print, so may be difficult to track down.