Book Review: Oliver Twist by Charles Dickens
An anonymous woman stumbles into a village about seventy-five miles from London, heavily pregnant and with her shoes in tatters.  She collapses in the street, and is taken to the parochial workhouse.  There, she gives birth to a boy and then perishes, seemingly leaving no clue to who she was.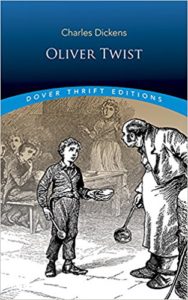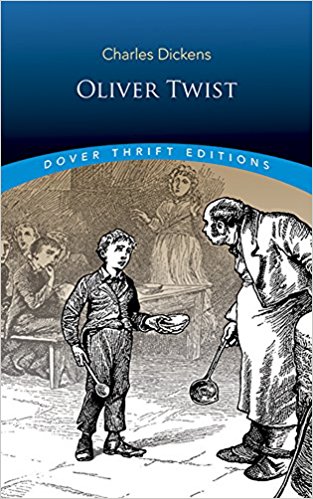 The boy is named Oliver Twist, the surname being because he is the twentieth nameless foundling in the parish since Mr. Bumble, the parochial beadle (a sort of petty law enforcer) took up the office and started using alphabetical naming.  He is shuffled off to an "orphan farm" to be neglected until old enough to start picking oakum in the workhouse.  At the workhouse, Oliver is labeled a troublemaker when he dares ask for more gruel.   Is it possible for things to get worse?  Probably.
This was the second novel length work by Charles Dickens (1812-1870).   He moved from the straight-up comedy of The Pickwick Papers to a dramatic plot with comedic undertones.  Much of what happens to young Oliver in the early parts of the book is drawn from what Dickens remembered from his own poverty-stricken childhood.  In the preface to the Third Edition (the one used for the reprint I read), Mr. Dickens defends his use of what we'd call "gritty realism" compared to the usual treatment of poverty and crime in that time's literature.    Then he admits to toning the language way down to avoid having the book be banned for cuss words.
Once the adults in the charity system have decided that Oliver is a bad child, they proceed to behave as though this is the case while completely ignoring the lad's actual behavior and character.  (Consistent with the general treatment of poverty as being the result of moral failings, and therefore the poor being undeserving of better treatment, and indeed an excuse to treat them horribly.)
The first adult we see even momentarily show some concern for Oliver is a magistrate that refuses to apprentice the boy to a chimney sweeper that routinely works his apprentices to death on the grounds that Oliver is clearly terrified by the man.   The workhouse managers blame Oliver for failing to look properly grateful.  A second apprenticeship application by undertaker Mr. Sowerberry goes better.
Mr. Sowerberry cannot be described as a good person; there's too much petty greed and schadenfreude in his character.   But he's not actively hostile to Oliver and sees a way to make the boy useful and good for the business.  Unfortunately, Mrs. Sowerberry,  older apprentice Noah Claypole, and serving girl Charlotte are hostile and make life miserable.  Noah, whose living circumstances are barely above Oliver's, has always wanted someone to punch down at.
Oliver finally snaps after one too many insults to his dead mother, and punches Noah back.  This gets Mr. Bumble called in, and it appears that Oliver will be sent back to the workhouse, if not prison.  Understandably, Oliver decides to run away.  Life is not easy for a penniless child alone on the road, but a day's coach ride out of London, Oliver meets someone who likes the cut of his jib.
This is Jack Dawkins, known on the street as the Artful Dodger.  A bit older than Oliver, and good-natured for a hardened criminal, the Dodger brings Oliver home to meet a gentleman who would be willing to teach Oliver a trade.  This gentleman is Fagin, a "kidsman" who trains children to steal for him.  At first, Fagin pretends that he teaches the boys hanging out in his shelter how to make handkerchiefs and wallets.
Oliver learns the truth when he's sent out on his first mission with Jack and his amiable partner Charley "Master" Bates.  When he sees the pair steal an old man's silk handkerchief, Oliver runs away from them, making it appear that he is the pickpocket.  The victim, Mr. Brownlow, quickly realizes the truth and does not press charges, instead taking the seriously ill boy home to tend him.
Mr. Brownlow realizes that Oliver Twist looks a lot like someone he used to know, but keeps that information to himself to avoid raising the boy's hopes.   The lad grows well again, and for the first time in his life experiences enough to eat and decent clothing.  (Fagin provided minimal food and shelter.)  Unfortunately, Fagin's gang, including Nancy (whose job is mentioned in the preface as prostitution) and Bill Sikes, a brutal burglar, have managed to track Oliver down.
The very first time Oliver is alone outside the house, he is abducted by the gang.  Fagin worried that Oliver might be induced to give evidence to the police, and also has been engaged by the mysterious Mr. Monks to make sure Oliver returns to a life of crime.  After they think that Oliver's will has been broken enough, Sikes bullies Fagin into giving him the boy for a job in the country.
This crime goes south quickly, and things look bad when Oliver is shot.  But this is where Oliver's fortunes truly turn, as he is taken in by generous householders, one of whom feels a certain kinship towards him.
The villains, however, are still at large, so Oliver's trials are not yet done.
The last third of the novel moves the focus away from Oliver as the various schemes and plans of the adults in the story play out for good or ill.  Only at the end do we return to the boy as his true heritage is revealed.
Good:  Dickens had a way of language, and a saucy narrative style.  One character has the habit of exclaiming "I'll eat my head!" and the narrator points out that even if science devised a method by which eating one's own head was physically possible, the appendage in question is too large for him to devour in one sitting.
Many of the characters are comical even while being horrible, as with Mr. Bumble, who talks up his virtuous charity while doing nothing of the sort.  Bill Sikes is a notable exception, with no punches pulled as he abuses pet and lover alike, before slipping into outright murder.
Plus, Mr. Dickens was good at pulling on heartstrings.  Thus it feels earned at the end when the good people mostly are rewarded, while the bad people tend to meet stickier ends.  (Though I do kind of hope that the Artful Dodger makes good in Australia.)
Not so good:  Mr. Dickens was paid by the word in monthly installments, and you can spot passages where he's using more verbiage to fill out his pagecount, and plot twists thrown in where the monthly installment would have ended to make sure the readers would come back.
And then there's the antisemitism.  Fagin really gets hit with the stereotype stick in earlier editions, in addition to being referred to as "the Jew" in the narration.  Mr. Dickens claimed that he hadn't done this because he thought Jews were criminals, but because he was given to understand that the type of criminals that Fagin was tended to be Jewish.  But that doesn't change that the entire Jewish representation in the book is Fagin (a fence and pimp who exploits children), Barney (a henchman of Fagin's with a speech impediment) and an unnamed rag dealer who does business with Fagin.
Later in life, after Charles Dickens actually met some Jewish people and got to know them better, he revised the book to lessen the emphasis on Fagin's Jewishness and excise a few of the physical stereotypes.
There's also some period sexism, with the villains sliding into outright misogyny.  Mr. Bumble falls afoul of the down side of patriarchy for men when he learns that the law will consider him responsible for the crimes of his wife.  ("The law is a ass.")   The actual women in the story range from saintly (Rose) to wicked (Mrs. Bumble).  It's worth noting that Nancy, despite her never-explained day job and criminal behavior, for which she feels she can never atone, is still a better person than say Mrs. Sowerberry, who never breaks the law, but has no charity in her heart.
And of course, there's some pretty contrived coincidence involved, as Oliver just happens to run into the only two people in England who have personal reasons to help him…and the only person in England who has personal reasons to make sure he never reaches adulthood.
This is a classic novel which has had considerable influence on popular culture, and is well worth reading once.
And a trailer for the musical, perhaps?