Comic Book Review: Babylon Berlin story by Volker Kutscher, adaptation and art by Arne Jysch
Disclaimer:  I received this book through a Goodreads giveaway to facilitate writing this review.  No other compensation was requested or offered.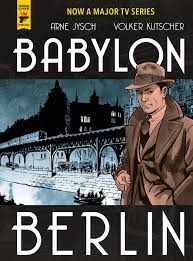 It is 1929, and the Weimar Republic of Germany is reaching the end of its "Golden Age."  After the long miserable post-war years, the economy seems to be stable and growing, the arts are having a renaissance, and there is more personal freedom than ever before.  But the underpinnings of the economy are fragile, political unrest swells on both the right and the left, and resentment over the end of the Great War festers.
Detective Inspector Gereon Rath has come to Berlin after he killed a politician's son during an investigation in Cologne; it may have been a righteous shoot, but that city is too hot for him now.  Rath's father is influential in his own right and got his son a transfer to the capital, but Berlin's prestigious homicide division doesn't have a place for Rath, and he's shuffled off to the vice squad.
The ambitious Rath chafes at his new job, though he does it well enough, with his boss Bruno Wolter (who himself worked homicide before an unfortunate shooting incident) quickly making a bond with the new officer.   Then a possible break comes Rath's way.
An anonymous corpse fished out of the river is proving a tough case to crack, and officers outside the homicide division are allowed to see some of the evidence in hopes of getting more clues.  Rath recognizes the man–he doesn't know the murder victim's name, but does know that this person was connected with a now-missing cocaine dealer.  Rather than share this information, Rath starts his own side investigation in hopes of solving the case and getting a promotion.
The case turns out to be far more complex than Rath had ever expected, involving Russian exiles, secret societies, Berlin's seedy underworld, police corruption and millions in missing gold.  Forget promotion; Detective Inspector Rath will be lucky to escape with his life!
This volume is an adaptation of the first Gereon Rath mystery novel by Volker Kutscher, Der Nasse Fisch: Roman ("The Wet Fish: A Novel.")  The novels were turned into a television series titled Babylon Berlin, which is as of this writing available on Netflix, so this adaptation uses that name to make it easier to find.
This is part of Titan Comics' "Hard Case Crime" line of comics, and the story is firmly in the "hard-boiled" school of detective fiction with a heavy dose of noir cynicism.  Rath is by no means an idealist at the beginning of the book, and quickly becomes morally compromised in a variety of ways.  As is often the case in such tales, he's primarily sympathetic by fact of the other criminals in the story being worse.  He's surprisingly unprejudiced towards genderqueer people.
More interesting is the character of Charlotte Ritter, a sharp-eyed and -minded woman who is officially the homicide department's "stenographer" because sexism.  Her boss, Chief Inspector Gennat, knows she's one of his top operators, but can't give her an official title.   Despite her general good sense, however, Ms. Ritter gets emotionally involved with Rath.
Content issues:  female toplessness, on-page sex scenes (no genitalia), one BDSM scene (appears to be consensual), torture, antisemitism.  At one point Rath gets high on a combination of alcohol and cocaine (but is at least smart enough to not do the cocaine part again during this story.)   It'd be an R as a movie.
Overall, the writing is good, the art is decent, and there's enough plot going on to keep the story moving to the bittersweet ending.   The Weimar Republic setting lends itself well to foreboding noir themes, since we know the horrors to follow.  Recommended to fans of hard-boiled detective stories.  (Enough has been changed in the television series so that if you've already seen that it's not a complete spoiler for the comic book.)
And now, here's a trailer for the TV series: