Book Review: Slow Dancing Through Time by Gardner Dozois in collaboration with Jack Dann, Michael Swanwick, Susan Casper and/or Jack C Haldeman II.
The art of collaboration is an interesting one; two authors (rarely three) blending their skills to create a story neither could produce individually.  Ideally, the reader should be able to see the fingerprints of the collaborators, but not the seams between them.  Gardner Dozois wrote a number of fine collaborations in the 1970s and 80s, before taking on a full-time job as editor for Isaac Asimov's Science Fiction Magazine.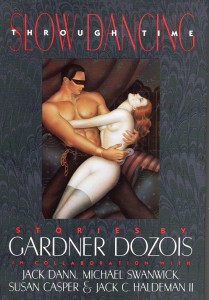 This volume reprints fourteen of those stories, along with essays by the collaborators on the collaboration process, and afterwords for each story written by Mr. Dozois.  (It also has a list of his other collaborations if you want to hunt them down.)  The stories cover science fiction, fantasy and horror, with a couple of them on the edge between genres.
The first story is "Touring" (with Jack Dann & Michael Swanwick), in which Buddy Holly gets a chance to perform with Elvis Presley and Janis Joplin.  It's a Twilight Zone type story, although the language is saltier than Rod Serling would ever have been allowed to air.  The book ends with "Down Among the Dead Men" (with Jack Dann), a chilling tale of a vampire trapped in a Nazi concentration camp.  It was quite controversial at the time, and still packs a punch, despite where the horror genre went during the Nineties.
Standouts include  "A Change in the Weather" (with Jack Dann), a bit of fluff about dinosaurs that hinges on the last line (and provided the endpaper illustration), "Time Bride" (with Jack Dann) about the use of time travel to emotionally abuse a girl (and with a downer ending as the cycle continues), and "The Clowns" (with Susan Casper & Jack Dann), another chiller featuring a little boy who sees clowns that no one else can.
Some of these stories may be hard to find elsewhere, such as "Snow Job" (wth Michael Swanwick.)   This tale of a con artist and a time-traveling cocaine addict first appeared in High Times, which can be difficult to find back issues of.
Overall, the quality of the stories is good, but budding writers may find the essays on collaboration more useful to them.  Recommended to speculative fiction fans.