Comic Book Review: The Building by Will Eisner
This is a ghost story.   In New York City, a brand new building has risen where another one stood for eighty years.  But not all remnants of the old building's history are gone.  Today, four people from the past appear, their tales entwined with this site.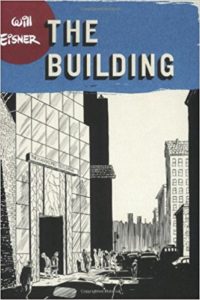 Will Eisner (1917-2005) was one of the first creators to produce original material for comic books, which had started out as reprint magazines for newspaper comic strips.  His best known creation was The Spirit, who ran from 1940 to 1952.  The strip was known for its innovative layouts and strong writing (even if done by "ghosts" during most of World War Two.)
He kept busy with various projects, including training manuals for the military, and a monthly preventive maintenance magazine with comic book elements.  In the late 1970s, he returned to fiction with A Contract with God, and Other Tenement Stories, which popularized the term "graphic novel" for long-form comics storytelling in a single volume.  Mr. Eisner's work in this line continued, and was so influential that a major comic book award was named after him.
In this story, we learn about the four ghosts.  Monroe Mensh was a shoe salesman who minded his own business until the day a child was gunned down in front of him.  Anguished by the thought that he could have done something to prevent this tragedy, Monroe dedicated his life to charity, trying to save children without a great deal of success.
Gilda Green, a pretty dental assistant, loved penniless poet Benny, but married her successful employer for economic stability.  She couldn't commit fully to either relationship, which resulted in heartbreak for everyone.
Antonio Tonatti loved to play the violin, but he wasn't quite good enough to make a living at it.  So he got a decent-paying construction job and only played for special occasions.  That is, until an accident left him disabled.  His pension being good enough to keep him housed and fed, Antonio returned to his first love, and became a street musician near the building.
P.J. Hammond was the son of a real estate magnate, who followed his father into the business.  At first, he had some idealistic notions about the social responsibilities of landlords, but exposure to what it really took to get ahead in the business hardened his heart.  As part of a huge development deal he put together, P.J. was adamant on repurchasing the first building his father had owned.
But the new owners refused to sell, and P.J. became obsessed.  He finally resorted to the most underhanded methods that were still marginally legal that he could think of–but it was a Pyrrhic victory that eventually bankrupted him.  P.J. was finally forced to sell out this last remaining building, which was razed, and the Hammond Building put in its place.
Today, these four ghosts appear, and each in their way intervenes in events.   The new building is now free to collect its own stories, and its own ghosts.
This is great stuff, pictures and words working together to tell a story that would not work without either.   The long-story format allows for many single-panel pages focused on the tall buildings that are the setting, but also multiple-panel pages showing changes over time.
We get to know the characters, their flaws and failings as well as their good intentions.  There is much sadness here, but also hope.
Highly recommended as an example of what the comics medium can be used for, and an excellent story.